Egg Coffee in Hanoi is very much on trend. We heard about it from our hotel staff. We had not heard of it before, but after a false start when we went to the wrong cafe, we then headed to the original café where egg coffee in Hanoi all started. This strange concoction has become very trendy with local people as a dessert after dinner…because it sort of tastes like Tiramisu.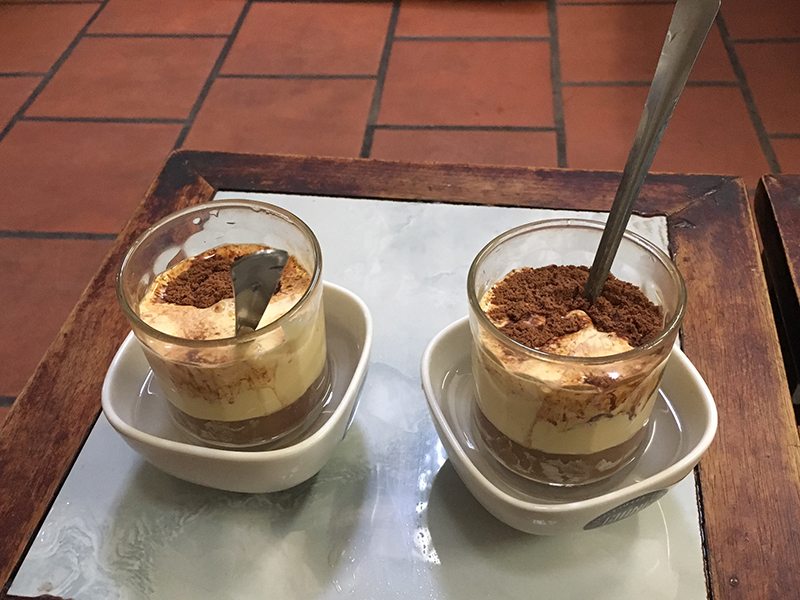 Giang Coffee – the Original Egg Coffee Café
While there are some Egg Coffee Cafes now in Hanoi, due to the popularity of this brew, it was Giang Coffee that started this craze. Egg coffee is called cà phê trứng.
Where is Cafe Giang
You will find the cafe at No.39 Nguyen Huu Huan with an unassuming doorway, where local women sit on their little plastic chairs discussing the day's events. You enter the cafe down a long narrow walkway, and this opens up into a cave like setting with lots of tables and a lot of people drinking their egg coffee. A little further on is the open plan kitchen where you will hear the blenders running as you try to find a seat in this very popular café.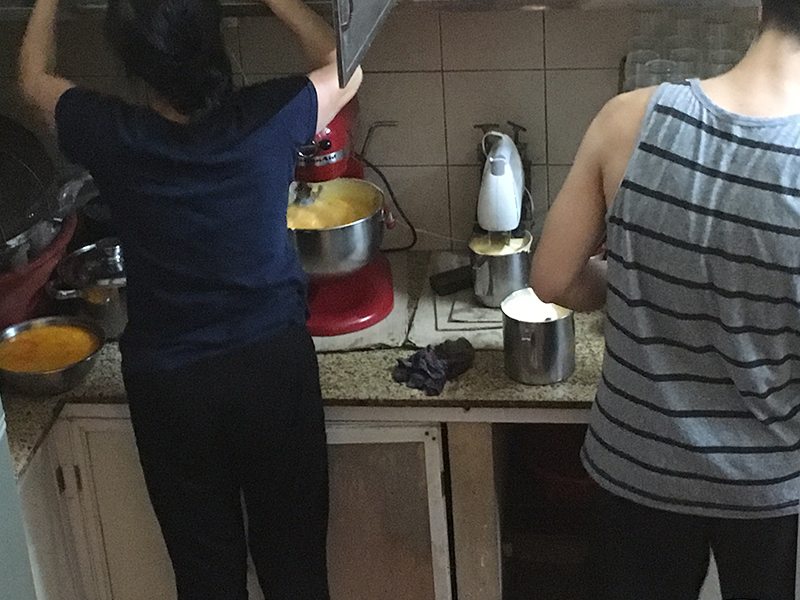 We went there twice, and each time it was buzzing with people, most of them locals, and all of them ordering one of the varieties of egg coffee that Hanoi has become famous for.
You are very welcome to watch the process in the kitchen.. but perhaps they turn their backs a little more when they are adding the one or two secret ingredients. Upstairs is a delightful inside garden with a partial glass roof and again buzzing with local people drinking their egg coffee.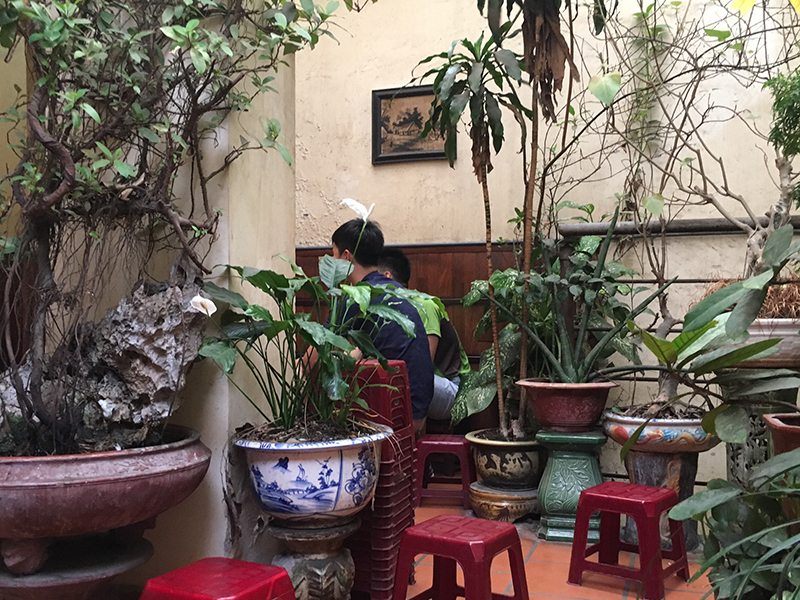 Café Giang says very explicitly "With bland chains taking over Hanoi's café scene, ancient holes such as this one have become revered treasures," and we agree.
The History of Egg Coffee in Hanoi
We were fortunate to speak with the owner, a delightful man who is very proud of his blend, but not too concerned about the copy cat cafes popping up. He was happy to share most of the ingredients with us .. eggs, cheese, condensed milk, sugar, and other secret ingredients, which are all blended and poured over a traditional black Vietnamese coffee. The formula is to measure exactly the fixed amount of eggs and coffee and the way to mix them perfectly that will decrease maximum the egg sickliness ..and this is where Café Giang kicks its competitor's butts. We know because we went to the wrong one on our first day.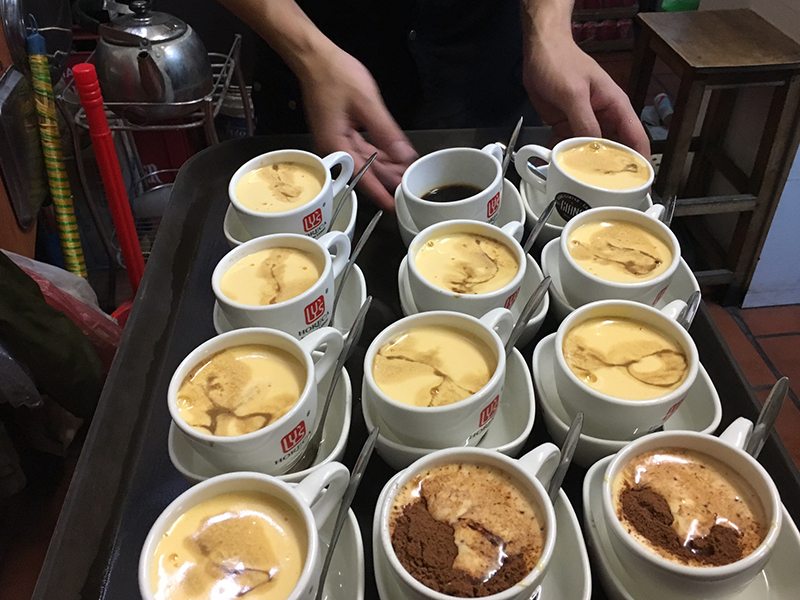 The new manager is the grandson of the original egg coffee master. It is a business that is handed down through the generations, For his family, egg coffee has been their families brew, since shortly after 1946 when Mr. Nguyen Giang started Café Giang. As there was a shortage of milk during the French War, they would add the ubiquitous condensed milk to the bottom of the coffee as a substitute.
Making the Egg Coffee
There is quite some ceremony involved in the making and serving of the egg coffee. The eggs, cheese, condensed milk, sugar, and other secret ingredients are blended. I never did find out what the cheese was however. When there are sufficient egg coffees made, the cups are placed in a bowl of hot water to keep its temperature, then loaded onto a tray and distributed to we eager patrons. For us, we will always associate egg coffee with Hanoi, and egg coffee with Café Giang. There are just some things you have to do when you travel.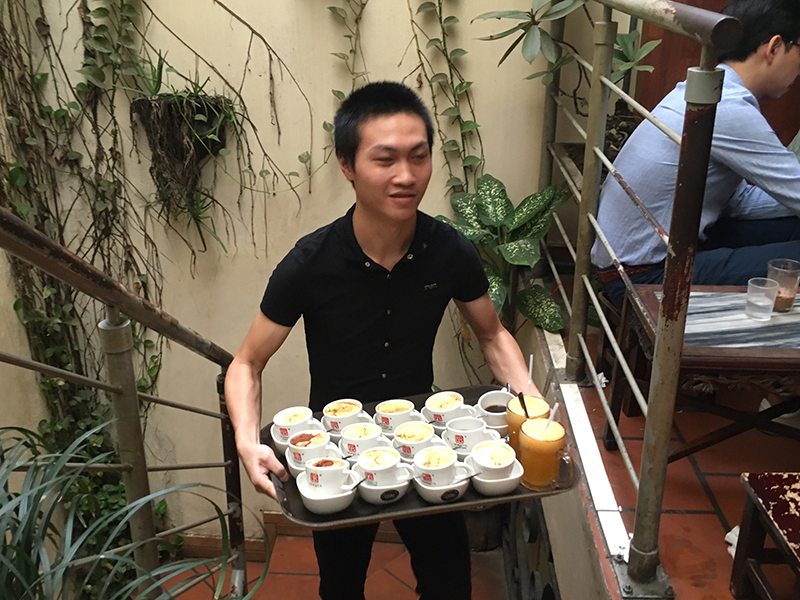 ***Find out how to make your own Vietnamese Egg Coffee here.***
Egg Coffee with a boost
As a side note, on our second visit at 10 am in the morning, we tried one of the variations Rum Trung – egg coffee with white rum. We have to do the research for you. It was delicious and gave us a great start to our day exploring the Old Quarter of Hanoi. #yourwelcome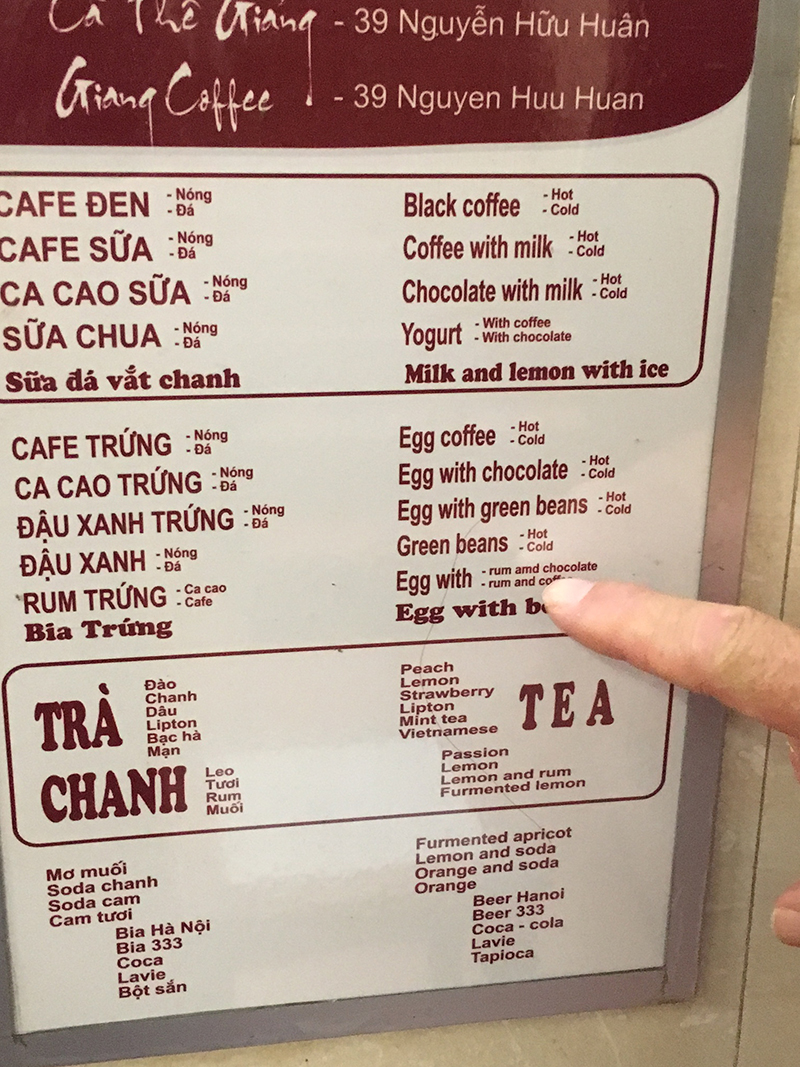 Giang Cafe – 39 Nguyen Huu Huan Street, Hoan Kiem – Hanoi
Website: http://www.giangcafehanoi.com