Walk around Munich, and get to know the capital and largest city of the State of Bavaria in Germany, and the city where Oktoberfest comes alive. It is a perfect way to spend a weekend getting to know this charming and friendly city. Known all over the world for its monumental landmarks and beer halls, Munich is a place where you will never regret spending a weekend. It is not only a thriving economic center but also the place where arts, technology, and education prosper. Munich is a beautiful city, situated near the Bavarian Alps and on the banks of the River Isar. If you want to enjoy a cozy weekend in this city, then here is an amazing plan to walk around Munich. Read more about what to see and do in Munich.
To start off, Have an authentic Munich breakfast WITH Beer
How often do you get served beer for breakfast? Well, you are in Munich, and that is an authentic Bavarian breakfast. Wake up early, and head to a cafe for boiled sausages served with loads of sweet mustard, freshly baked pretzels, and BEER. The Hirschgarten beer garden on the edge of the famous Hirschgarten Park is a lovely spot. This offers a vast range of local and regional cuisines to help locals and tourists kickstart their 48 hours in Munich. It also has a fabulous décor to compliment the scrumptious menu.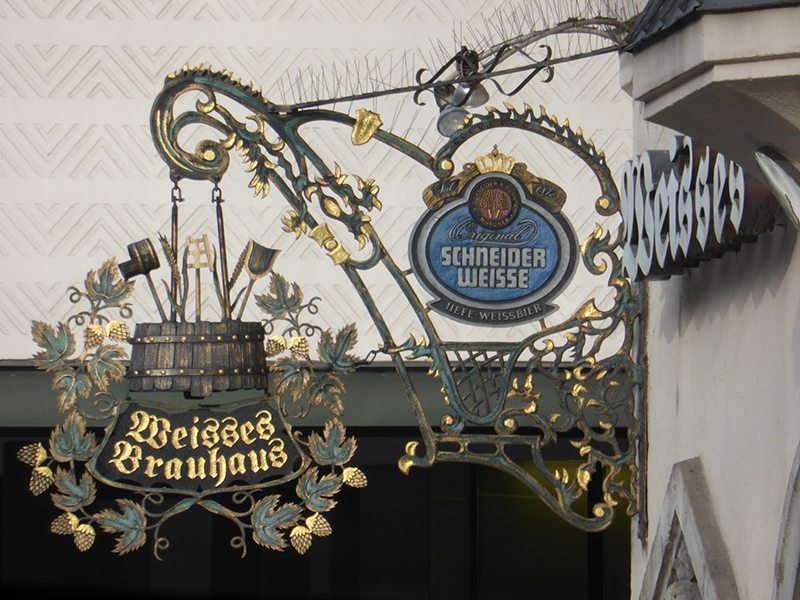 Walk Around Munich, with a few beer, breaks to keep you motivated.
This map will help when you also go on a walking tour of Munich
1.The Historic Centre on your Walking Tour of Munich
While we have outlined some grand architecture on the walking tour of the historic centre of Munich, it is those unusual and unexpected things that we discovered that gave us the sense of this place. We saw humour, wit and cheekiness in sculptures, street art and the people themselves.
2. Frauenkirche
Despite massive bombings, these towers escaped Allied bombardments during World War II. They now serve as landmarks on Munich's skyline and are a great way to ensure that you don't get lost.
3. Marienplatz
The main square Marienplatz is where you will see the New Town Hall, or Neues Rathaus is an immediate winner with its gargoyles and statues, and what we found amusing was the dragon climbing the turrets.
Also, you will see the golden statue of the Virgin Mary. The famous Glockenspiel, the mechanical clock that performs a show several times a day is definitely worth a look as well as it is visually unbelievable and highly entertaining. The Old City Hall or Altes Rathaus, which was rebuilt in its present form in 1470 after fire destroyed an even earlier version, is also here.
4. Peterskirche
This church's interior is baroque stunning, with its stucco and gilt. This is the oldest parish church in Munich, and for many years, it was the only one.
5. Viktualienmarkt
Known as "Munich's stomach," this is a very buzzy place where you can see all of the stalls set up with the fresh produce. It is easy to stay here a while ..and ..eat and watch the people go about their daily lives.
6. Max-Joseph-Platz
This plaza was built in the 19th century on the site of a Franciscan convent in honor of Bavaria's first king. It is a focal point for the Maximilianstrasse – a very chic boulevard.
7. Feldherrnhalle
This is an open-air loggia. The two lions on the steps are the work of a sculptor, Ruemann, in 1906. This was a rallying point for the Nazi's and where the Beer Hall Putsch took place.
8. Odeonsplatz
The Odeonsplatz is a large square in central Munich. The square is named for the former concert hall, the Odeon, on its southwestern side. Here you will find lots of fountains and cafes.
9. Hofgarten
This is a lovely garden right in the heart of this city/town.
Also, see the people's shrine to Micheal Jackson – an accidental discovery – serendipity
10. Wittelsbacher-Platz
This is one of the most famous squares of Munich.
A Walking Tour of Munich is a great way to see how stunning this German or Bavarian city is and to see that it is a city with a great character.
Spending time doing a Walk around Munich – with plenty of pit stops for beers – will help you to enjoy this friendly city.