Many people visiting Hanoi, the capital city of Vietnam, will do choose to do some day tours of the north of the country, and here are The Top 5 Day Trips from Hanoi. Hanoi is a melting pot of cultures, combining French cultural influences and distinctive cuisine and heritage. It offers a lot for one looking to enjoy the magic of Vietnam. Read more about exploring Hanoi, and what to see and do in the vibrant city.
However, if you are like most adventurers and you require some peace and quiet, away from the noise of Hanoi, there are some excellent tours you can take Hanoi. This guide features some of the five must-see day trips from Hanoi. It is very good advice to take an organised small group tour, as getting around Vietnam on your own can be tricky, to say the least.
The Top 5 Day Trips from Hanoi
1. A Full Day Trip to Ha Long Bay
Ha Long Bay is, one of the most stunning natural wonders of Asia. It has limestone formations, which jut dramatically out of the bay with vegetation-clad peaks. The name Ha Long means "where the dragon descends into the sea". According to legend, this was created by a dragon crashing into the coast- creating valleys and pinnacles with its tail.
If you are on tour to Vietnam, Ha Long is a must-see destination, and the best way to do this is on a cruise. Be aware that Ha Long Bay is very popular with tourists, and some days can be very crowded. Try and avoid the weekends, and public holidays.
Day trips are available which will give you a glimpse of the valley although if you really want to enjoy your time here, you should stay one night on a boat at Ha Long Bay. This will give you time to explore the bay and see the sunset and sparkling skies which Ha Long is famous for. It's no surprise Ha Long was listed as a UNESCO World Heritage Site in 1994.
The best time to enjoy this place is between late May and early August when the weather will be bright and clear. However, visiting between January and March is cool too as that's when the misty fog and cool weather gives the bay a mysterious atmosphere. Make sure you book through a reputable company like Viator, as many people will try a sell a Ha Long Bay tour, and may not be as ethical. Full details, prices and reviews here.
2. A day trip from Hanoi to Hoa Lu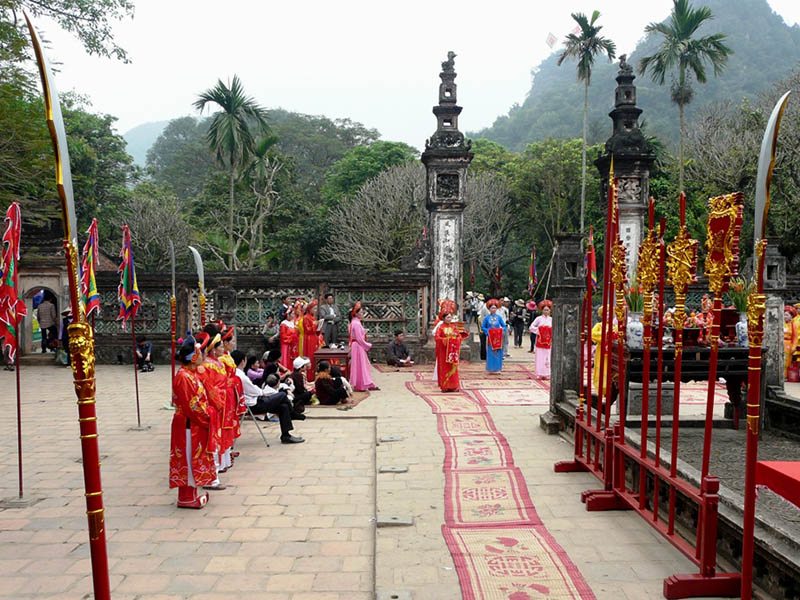 If you are interested in the history of Vietnam, a day trip from Hanoi to Hoa Lu is something you shouldn't miss. Hoa Lu was the capital of Vietnam during the 10th and 11th centuries, and it is approximately 90km south of Hanoi and surrounded by emerald green rice paddies and striking limestone mountains. Hoa Lu was chosen as the capital of Vietnam because of its steep limestone rock formations which made the area impenetrable as enclosures which were difficult to attack could be designed.
There was once an ancient citadel which included palaces, shrines, walls, and temples and although all of that is gone, visitors can still see relics of these structures which gives a peek back into the 20th century.
This area of Vietnam is also very important as several notable events have occurred here including the war with the Song Dynasty, the defense against the ancient Cambodian invasion, the 12 Lords Rebellion and the formation of modern Hanoi.
The best time to visit Hon Lu is during the third month of the lunar year which is when the annual festival holds with the procession beginning from the Hoang Long River and ending at the temples of the two kings. The festival also features games and ceremonies.
3. Visiting Bai Dinh Pagoda
Just a few minutes from Hoa Lu, Bai Dinh Pagoda is an enormous complex of brand new religious buildings which was built on the site of an old temple between 2003 and 2010. The enormity of the Bai Dinh Pagoda is enough reason to visit, and the artistry and finery in the smaller details of this gigantic, modern monument to Buddhism make this structure breathtaking.
The Bai Dinh Pagoda is best experienced than described and little wonder it has quickly become popular among foreign and domestic tourists. One of the truly wonderful day trips from Hanoi.
You can do the Bai Dinh and Trang An Day Trip with Lunch and Electric Car.
4. Discovering the Perfume Pagoda near Hanoi
Visiting the Perfume Pagoda is a mystical journey southwest of Hanoi: first by road then by boat through a limestone valley, and finally by foot up a long stairway to the sacred grottoes housing temples and shrines. This is the perfect day trip: a mixture of history, natural beauty, architecture, and culture. But over the years, it has become increasingly busy with foreign and domestic tourists and pilgrims. However, the crowd takes nothing away from the natural beauty of the area, and in case you are wondering, the name 'Perfume Pagoda'  is because of its location in the cliffs of the Huong Tich Mountain, or the Mountain of Fragrant Traces.
5. Exploring Bat Trang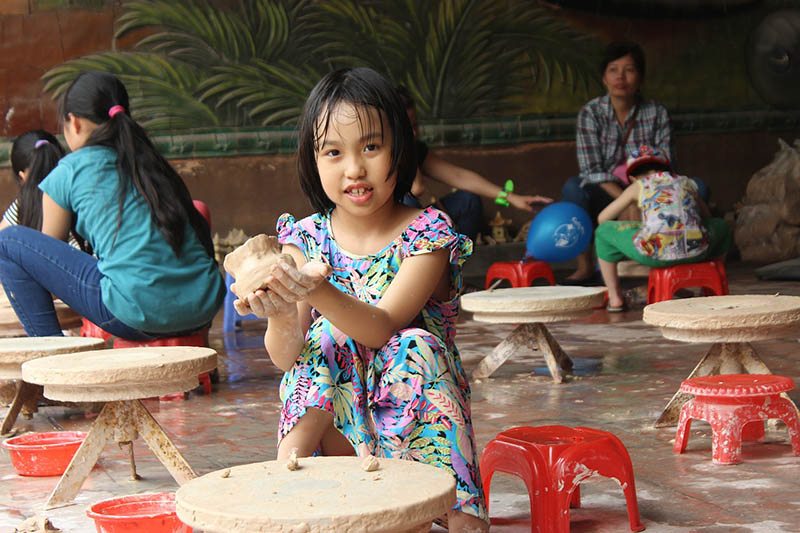 Bat Trang is just 25km outside of Hanoi and on either side of the Red River is Bat Trang, a small village which boasts a long and impressive history of pottery. A great way to visit Bat Trang is on the back of a motorbike. The village itself is ancient, dating back over 1000 years and is famous for its ceramics. The ceramic industry of Bat Trang has always been famous, supplying pottery to the Ming Dynasty and even exported goods during the French colonial period. A visit to Bat Trang will allow you watch ceramic masters practice their trade and it is ultimately the place to shop for truly local, handcrafted souvenirs.
Vietnam is a fantastic destination, and these Top 5 Day Trips from Hanoi will open up more of the country to you.