It stands to reason that a coastal city would be fishy, and that is exactly what the city of San Diego, California is. Fishy. You just can't go to San Diego without eating seafood. San Diego's seafood restaurants have little choice but to bring the sea to the plate and to give the patrons something to talk about. People are making their way to San Diego to get a piece of the action and to savor the freshest sea-inspired dishes. If you are coming to this seaside city to get your fish hit then make sure that you book a San Diego hotel and discover what is so fishy about this Californian city.
Icons of San Diego
Point Loma Seafoods was featured on Diners, Drive-ins and Dives, which has just added to its popularity. This San Diego icon opened in 1963, and it continues to attract customers from near and far, particularly for its lobster tacos. El Pescadore Fish Market and Restaurant is in the ever-popular La Jolla and is another must go to seafood restaurant, where the seafood sandwiches still fly out the door, or off the hook. The Marine Room is literally on the beach. It was built in 1941 and with the waves crashing against the windows you feel as if you are one with the ocean. It pays to book ahead because these are all iconic for a reason.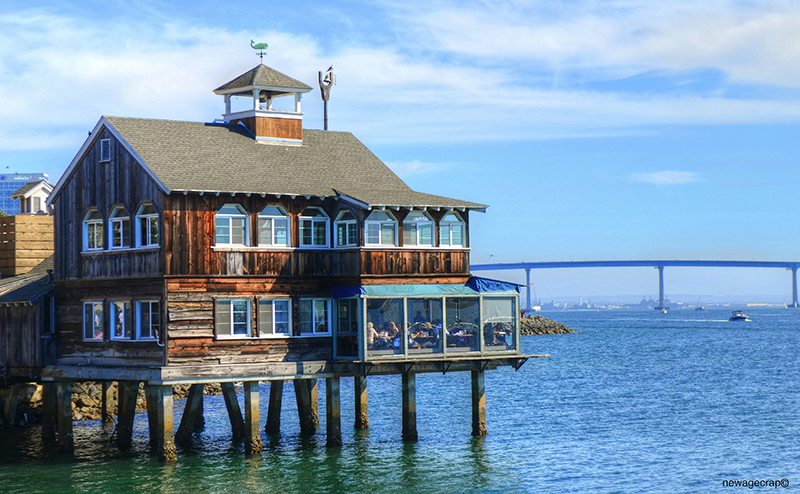 "Photo by B. Garrett via Trover.com"
Trendy and Fishy
Whisk'n'ladle in La Jolla has the ambiance and décor that connoisseurs love. They also have the menu to match. It is an upscale restaurant that has a very loyal clientele who enjoy to sea to plate as well as the farm to plate menu. The owners capitalized on their success by opening Prepkitchen in the bustling Little Italy, in 2009. Some of the most recommended dishes are mussels and fries, squid ink pasta, and pan roasted yellowtail with pomegranate seeds and cauliflower puree. Staying at the San Diego Marriott La Jolla means that you can also do a bit of damage with their cocktail menu at Happy Hour.
An Out-of-the-Way Spot
Encinitas is an authentic beach town just 25 miles from the city center of San Diego. Staying at an Encinitas hotel will give you a chance to have a new and very fishy experience as you get to taste some of the freshest seafood in the area. Yu Me Yah Saki House is a family owned and very authentic Japanese restaurant, and this is where you get some of the freshest and most meticulously prepared seafood in San Diego. This cute and bespoke café serves some crowd favorite like spicy tuna Carpaccio, and sashimi have the patrons coming back.  Encinitas Fish Shop is a must stop place and offers lobster tacos, Ono tacos, and Mahi-Mahi tacos. Washed down with a cold beer, and you are ready to explore this charming little enclave.
Sautéed, grilled, seared or raw, there is something fishy in San Diego.