Even in a Rainstorm: Australia's Great Ocean Road is amazing. The 12 Apostles are a group of limestone formations that rise above the ocean. The Great Ocean Road is one the most visited areas in Australia.  They were christened the 12 Apostles by Victorian tourism in the 1920s, yet there were only nine. Now there are eight, due to rapid erosion. This magnificent roadway was constructed between 1919 and 1932.  3,000 returned soldiers built the road to honour more than 60,000 Australians killed in World War I.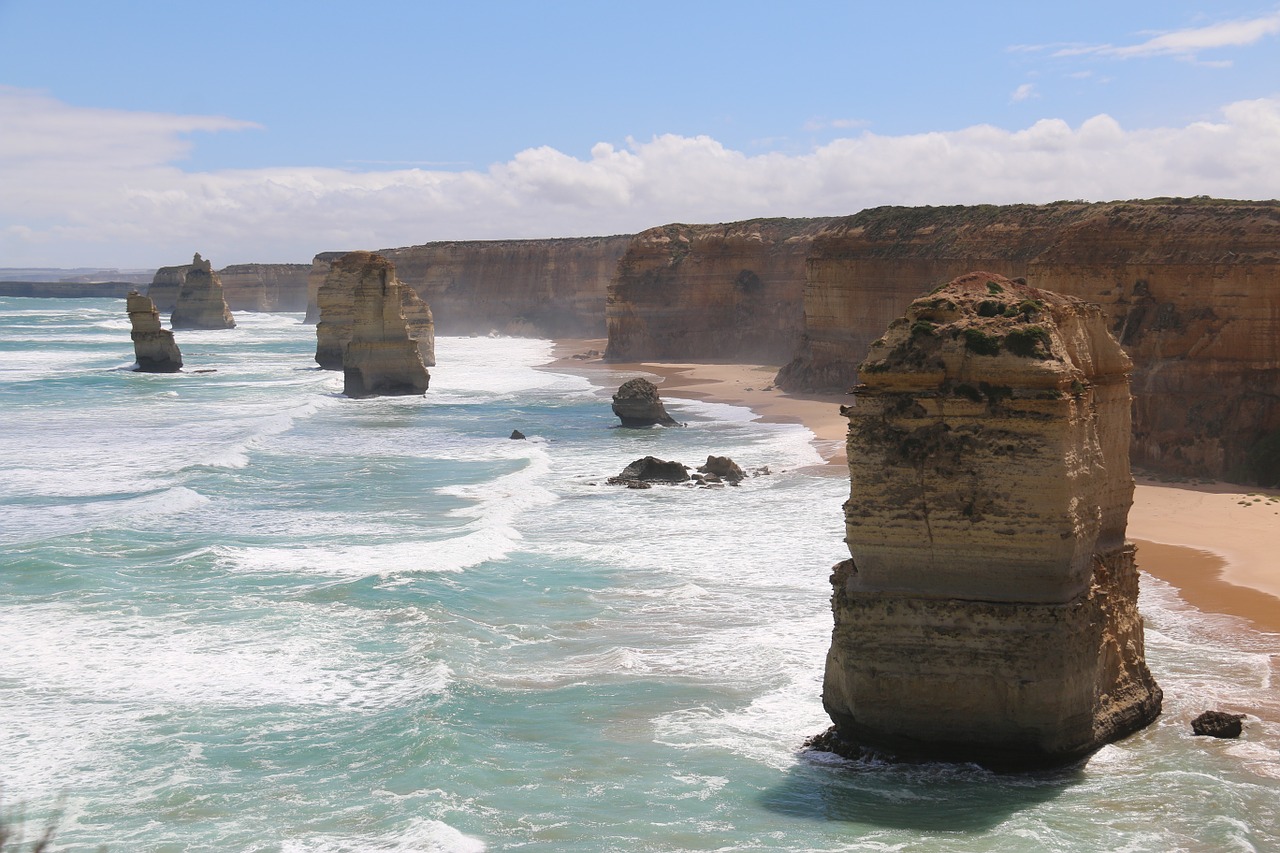 Our guest writer Rebecca Shinn shares her experiences  visiting Australia's Great Ocean Road
Throwing a load of bags into a hire car and Thelma & Louise'ing on the Great Ocean Road is the stuff a starry-eyed traveller dreams of. Snapping that perfect sunset polaroid from the top of a comfortable seated spot that has the perfect grooves to nestle into.
This is the exact naïve image I had whilst starting the drive down the 151 mile stretch of open road in front of me. The reality was just a little different. Still interesting, but different.
Having secured a 12-month office job contract in Sydney 2 months ago, this brit is seeking to fit in as many amazing journeys as possible before she gets fired for taking too many holidays away from corporate. This is one of them in a nutshell.
The Sign to Australia's Great Ocean Road
The only option for a fully immersive Great Ocean Road experience is to start from Torquay and just drive. Soon enough you'll be passing the iconic 'Great Ocean Road' Flintstone-like sign and you'll be smiling to yourself that your journey is finally starting. I should have realised at this point, it's looking grey…!
Now is the time to contemplate life, whilst gazing wistfully out the window at the expansive space to the left – the ocean. Not if you're the driver though, eyes on the road. There's a great bit of history here, as the road itself is on the Australian National Heritage list, built as the worlds largest war memorial. There's green everywhere, rolling hills to the left and farm animals to the right.
Torquay and a Friend at Billabong
It's easy to pick up some tips along the way from stop offs, folk are so friendly as its a known tourist destination so advice is freely and often given to those looking for it. In Torquay, we dropped way too much coinage at Billabong in the surfer's retail park, but the cashier gave us a great tip to get some ice cream at Anglesea. It's still grey, a bit windy and not quite 11am, but alright then. I'm on holiday!
If you are indeed a surfer, pop into the Surf Museum for $12, it's a quaint little homage. I think surfers enjoy it, but as a one-time surfer who can still taste the sea water at the back of my throat, it was lost on me. But a fun 20 minutes for $12. Oh and the renowned Bells Beach is on the way to Anglesea, so again, surfers, I'm looking at you.
Nordenfine at Anglesea: Kat-teaser and Ferro whirl scoops in one white polystyrene cup please. It was alright but I think if I bought an ice cream maker and mixed some chocolate bars in, I might get the same. But it's a good little stroll down the small strip of shops. Don't linger too long, there's more to see!
Looking for Furry Bums
The first gem is exactly in between Lorne and Apollo Bay, Grey River Road. Winding into Manna Gum forest, it's a well known spot for wild koalas due to the abundance of gum trees and eucalyptus growing from the gorgeous greenery. Look up and start to count the amount of furry bums you can see perched perfectly in between branches. Sydney's Taronga Zoo and Wildlife Zoo just do not compare. These little guys are a little rugged and fluffed up, but I'm not sure what can beat seeing animals in their natural habitat.
We counted 10, including one tentatively making his (I assume, a he!) way to the end of an increasingly narrow branch with a fresh bunch of eucalyptus at the end. Dangling straight above our heads, I was excited at the prospect of catching a koala from 20 feet, however I read after that they can be quite aggressive, so maybe I dodged a bullet there. You can also follow walking trails into the forest, but it depends how much time you have up the sleeve of your waterproof jacket.
Rain, Rain – Go Away!
Continuing on the road of great ocean, the weather is getting grey. I'm getting nervous, and then oh dear – the heavens open, and suddenly I'm in the aussie version of Wuthering Heights. This trip I've been so excitedly planning for months is now giving me weather worthy of being in England. Apart from its probably sunny over there right now, I bitterly think. Just swallow that thought and take a breath. Positivity. Optimism.  What the heck, try not to hate and embrace the fact that your scenery now has a beautiful palette of thunderous colours to contrast the greens of the cliffs. Yes, its not so bad, in fact – its quite something. Just look at the colours of the sky!
It's still pretty epic, and surprisingly enough, didn't make me miss the sun.
Let's move on. Staying overnight is the only way to see a good chunk of what the GOR (I found out that's what the cool kids call it) has to offer. It's likely that the main destination will be the Twelve Apostles, so Apollo Bay is a good resting stop. There's so much to do here if you want to stay here longer. Trails, tree-top adventures in Otway National Park, kayaking and fishing. We stayed overnight at Seafarers Getaway, chosen purely because of the telescope! I know, I know, but there was also an electric fire. That was cordoned off in the living room area, so it was freezing overnight, but I think that's what you get with Apollo Bay and the Great Ocean Road in generally, so choose carefully. There's shark meat on offer at the local Chinese, I decided to be daring and order sweet and sour chicken *hangs head in shame*.
The Twelve Apostles and Me
Torrential rain in the night ensured we woke up to rainbows just outside the window. Incredible views but a worrying predecessor for what was to come. Here's hoping that the next hour and 40 minutes on the road allow for the clouds to pass with however many buckets of water they have inside.
No such luck, driving into Port Campbell National Park to the Gibson Steps is completely overshadowed by becoming a drowned rat unable to see any amazing views because of the rain. What I believe is the only way to get down to beach level, and see the jaw-dropping rock formations tower over you is now a death trap as its so slippy, you'll be catapulted head first.
Running back to the car grasping any positivity from yesterday, and optimistically onwards to the base of the attraction, The Twelve Apostles starting point accompanied by the visitor centre. $3.50 for a rather fetching rain poncho which is basically 3 holes in a bin bag. All you can do is laugh, right? So that's what we did and took advantage of the fact that no-one wanted to walk about in the rain so we had this section to ourselves! Cue some interesting pictures.
Jokes aside, it was still incredible. These rock formations have been produced by erosion and the powerful waves of the Southern Ocean which was in full swing at the time of our visit. Whale and penguin sightings have been reported here, all part of the thriving marine life which is protected by the Twelve Apostles National Marine Park.
Onwards!
Once you've had your fill, drive on from this main section and pay the remaining rock formations a visit. Loch Ard Gorge, London Bridge, The Arch and The Wreck all showcase the beauty of this area, the first being essentially a private beach. But the waves can get pretty ferocious so watch the tide otherwise you'll be in the news for being the latest tourist to be rescued by a helicopter.
Chasing Waterfalls
This beautiful stretch of road you've called home for the last few hours, unfortunately starts to peter inland after London Bridge and Peterborough Coastal Reserve. Officially ending in Warrnambool, there's not a great deal to see, so use the remaining time wisely to do a U-turn and go inland. After an exhausting day of battling the elements, we wanted to see some natural waterfalls, but didn't want to trek for hours to see them.
Driving through patches of rain and forest is a beautiful adventure in its own right, so enjoy the surroundings while you can.
Triplet Falls, Beauchamp Falls, Stevenson Falls and Hopetoun Falls all have the wow-factor. Great Otway National Park has one of the highest rainfalls all year round, so if you are visiting any part of this rainforest, sorry, but you're going to get wet. Hopetoun Falls was a simple 25 minute walk to the lowest viewing platform, where you are rewarded with a stunning, free-flowing sight.
The platypus has been known to make an appearance here, but we didn't see it. Maybe because we only spent 10 minutes at the bottom before wanting to get back to the warmth and dryness of the car…!
A 3-hour drive back to the city after a long day of sight-seeing, drenched to the core and in wet, soaking shoes. The soggy bin liner ponchos in the backseat and my hair already starting to frizz, I put the heater on full blast and relax into the comfort of the car.
I didn't get the perfect sunset, or the sunny skies I desperately wanted. I didn't see the apostles light up with a golden glow, or sit on a comfortable DRY seat that hugged my two cheeks. But the endless rainbows, the historic winding road, the cloudy cliffs and the steamy forests, were more than I could have imagined to take my breath away. And I've come back home thinking – that sun?
Well, its over-rated.
From the editor: Always check in with the Great Ocean Road Regional Tourism Ltd, for great advice.