Imagine lush green islands, clear blue water lapping at the yellow sand; colourful long tail boats, epic sunsets, the smells of Thai food wafting through the air,  and yes, you are visiting some of the best beaches and islands in Thailand. This is why Thailand is one of the most popular places to visit in Southeast Asia. We asked some travel writers to share their favourites islands in Thailand, and also spoke with Tourism Authority of Thailand who were delighted that Thailand has 3 of the best beaches in Asia, as named by TripAdvisor.
Getting to Thailand.
Most major airlines will fly to Bangkok, and many also fly to Phuket.  Check Skyscanner for the best prices.
Where to Base yourself in Thailand
Many of the islands  and beaches are off the coast of the Andaman Sea and the Gulf of Siam. A lot of visitors will base themselves in Krabi, or Phuket to visit many islands. So we are sharing some information about these places too.
About Krabi
Krabi is a fantastic and trendy beach destination in southern Thailand. The province is located between Phang Nga and Trang, There are over 150 islands off the coast, and these are the iconic blue waters and white sands that attract visitors to Thailand. Krabi is also home to a large jungle, with lots of caves, waterfalls, and cliffs to explore. The entire area lends itself to a lot of water sports activities, as well as discovering the lush rainforests. Visit Krabi Island in Thailand
Getting to Krabi
The Krabi International Airport (KBV) is about 10 km from the city limits, 15 km from the city center, and 40km from Ao Nang. Krabi is serviced by Thai Airways from Bangkok, Bangkok Airways from Koh Samui, and Thai AirAsia from both Bangkok and Kuala Lumpur .  Check Skyscanner for the best prices.
Where to stay in Krabi
Best Things to see and Do
Read More: Best Places to Visit in Krabi
About Phuket
(the 'h' is silent)
Phuket is Thailand's largest island and is as tacky and exciting as one would expect of the party capital. It is what it is, and you should embrace this. The nightlife is outrageous and fun, but the daytimes are when you get to explore the many beaches and islands off the coast of Phuket island.
How to get to Phuket
There are many direct flights from international airports into Phuket International Airport (HKT). Check Skyscanner for the best prices. Otherwise you can fly domestically from many places within Thailand.
Where to stay in Phuket
Read More: Best Places to Visit in Phuket and Best Places to Visit in Pattaya
About Koh Samui 
Koh Samui attracts visitors from all over the world. It is equally as popular with backpackers as it is with luxury travelers, and this gives it a great mix.  Chaweng Beach is the lively party beach, while  Lamai Beach is a lot more chilled. Bophut's Fisherman's Village is a must-see area of Koh Samui
How to get to Koh Samui
Fly from Bangkok to Surat Thani and then ferry across to Koh Samui – This is cheaper than flying directly to Koh Samui, but the bus from the airport to the pier and the ferry across to Koh Samui add at least 3 hours to your travel time. Nok Air and Air Asia have five flights per day from Bangkok to Surat Thani
Where to stay in Koh Samui
Best Things to see and Do
Read More: Best Places to Visit in Koh Samui
About Hua Hin
Hua Hin is a seaside resort on the Gulf of Thailand. It became popular when the Thai royal family built summer palaces here, and Hua Hin still attracts many wealthy local and international visitors. There are many beaches to choose from.
Cha Am Beach is very popular and a well-known destination in Hua Hin with a long, attractive beach that draws tourists in droves.
Khao Takiab or Chopstick Hill lies just 7 kilometers to the south of Hua Hin, and many luxury hotels are located here. The beach is very popular.
Suan Son Pradiphat Beach is known as Suan Son and is a remote and tree-lined beach adjoining Khao Takiab.
Khao Tao Beach is a popular destination just a short drive from Hua Hin
How to get to Hua Hin
Hua Hin is 144 kilometres (90 miles) from Bangkok.  You can catch a bus from the airport to Hua Hin, approx 3-4 hours. By train it takes about 4 hours. All details here.
Where to stay in Hua Hin
Best Things to see and Do
Read More: Best Places to Visit in Hua Hin
Best 3 Beaches in Thailand – Tripadvisor, Travelers' Choice 
TripAdvisor has just released its annual Travelers' Choice listings, and the following 3 beaches in Thailand were voted as the best
Nai Harn Beach, Krabi
About Nai Harn Beach
Coming in at #4  on the Top 25 Beaches in Asia
One of the less crowded beaches, and one of the best beaches for snorkeling and surfing and stunning scenery. Lot's of water sports on offer at Nai Harn Beach
Staying near Nai Han Beach
Phra Nang Beach, Krabi
About Phra Nang Beach
#7 of 25 on Trip Advisor Travelers' Choice
Phra Nang Beach, Krabi is on the Railay Peninsula. There are two massive cliffs guarding the beach. You will avoid the crowds here as it is quite remote. You will need to depart from Ao Nang by the stunning long boats to get to the beach. Once you are there, you can kayak, rock climb, do some cave exploring or just admire the stunning view from the water.
Where to Stay
Kata Noi Beach, Phuket
About Kata Noi Beach
#8 of 25 Best Beaches in Asia
Located just south of Kata Beach, Kata Noi Beach is one of the most beautiful Phuket beaches. It is relaxed and beautiful, and a wonderful beach to walk along the sands, snorkel,  swim or have some excellent Thai food. Surfers like Kata Noi Beach.
Where to stay
Best Beaches and Islands to Visit in Thailand
Travel Writers Recommendations
Koh Lipe, Thailand 
by Vanessa of The Island Drum
Featured image by The Island Drum, which you can follow on Facebook

Located off Thailand's southwestern coast and just north of Langkawi, Malaysia Koh Lipe is, by all accounts, the epitome of a paradisiacal, tropical island. The glimmering turquoise waters and white-sand beaches of the brochures may look cliché, but they are true. There are three main beaches on Koh Lipe; Pattaya, Sunrise and Sunset Beach, with Pattaya being the most popular. The island is open year round, but from October to June direct ferry service from Langkawi is also available, making Koh Lipe even easier for travelers to reach, as Langkawi has an international airport.
What is there to do in Koh Lipe? If lounging on the beach isn't enough to keep you entertained, diving and snorkeling trips are an option as well as island hopping and fishing trips. Along the waterfronts and main 'Walking Street' there are plenty of restaurants, bars, shops and spas available and quite reasonably priced. Making Koh Lipe an excellent choice for all traveler styles as well as budgets. 

Follow The Island Drum on Instagram
Koh Phi Phi
by  Both-Paths
Why Koh Phi Phi is perfect for backpackers
Koh Phi Phi is a Thai island located south of Krabi and it is the perfect backpacker destination. The island is filled with backpackers from all over the world all year around. The island is most known for its amazing party atmosphere, the party beach at night is definitely something you cannot go without while visiting the island. The island is perfect for first time solo travelers because it is a stepping-stone to more local Asia. You will easily be able to get to know people, find English-speaking people and there is a great mix of food from the whole world.
While partying is what the island is most famous for, there are also so many other great activities to explore on this magical island. Cliff jumping, diving and hiking are just some of the options. The island is filled with longtail boats that can take you to quiet beaches. The activity we enjoyed the most was snorkeling with reef sharks. It is amazing; you get to be up close and personal with free wild animals in their natural habitat. Koh Phi Phi is a must for anyone traveling in Thailand
Follow Both-Paths on Facebook
Koh Tarutao 
by Nomadic Boys
Koh Tarutao is one of our favourite islands in Southwest Thailand, close to the border with Malaysia. It is the largest island in the Tarutao National Marine Park and a former concentration camp for political prisoners.
Koh Tarutao is perfect for adventure seekers where you can do snorkelling, kayaking, trekking, biking and more. Thankfully, it's heavily controlled by the Thai government to prevent it being destroyed by tourism. As such, there's not many facilities on the island, with only a few restaurants and huts to sleep or areas to pitch your tent.
We absolutely loved Koh Tarutao. It is one of the places we will always remember from our travels and definitely crave to return to one day.
Follow Nomadic Boys on Facebook
Koh Rok
Koh Rok is a tiny Thailand off the coast of Koh Lanta, we visited Koh Rok on a day tour with our 3 kids and had a fabulous day. We were advised that it would be better for us with the kids than Koh Phi Phi because Koh Phi Phi is very busy. The tour took us to 3 different snorkelling sites near Koh Rok and then we had a buffet lunch on the island.
Koh Rok Island is uninhabited and generally serves as a location for day trippers, you are able to stay overnight in tents provided. There is very little in way of facilities other than public toilets, you must take all your rubbish with you when you leave. Koh Rok is surrounded by crystal clear turquoise water, with a tropical coral reef just off shore. Its the perfect spot for snorkelling and family friendly as well. Koh Rok is special because its virtually untouched and unspoilt. It also has less visitors than other Thailand islands.
Follow our3kidsvworld on Facebook
Ko Lanta
As soon as I stepped foot in Ko Lanta I fell in love. The island is big enough to find something new every day to explore, though small enough to easily get around. It is the perfect place to relax with such a chilled out atmosphere and none of that intense party nightlife like at Koh Phi Phi.
The best thing to do here is to hire a scooter and explore. The road around the island basically goes in a circle so it's hard to get lost. Park up and check out all the amazing restaurants with the most beautiful views over the ocean. Pull over every time you find a picture perfect beach and head down to play in sand. There are waterfalls to chase and you can even admire monkeys at Mu Ko Lanta National Park. For the most amazing views head up the cliff at the National Park to the lighthouse, though be careful as it's a steep drop on the edges.
I honestly think Ko Lanta is the best Thai Island. From the gorgeous beaches, tropical jungle and local animals I promise you will never want to leave.
Follow Backpackers Wanderlust on Instagram
Koh Tao
Koh Tao means 'Turtle Island'. The small island off the Central Gulf Coast is the dive capital of Thailand. This is a cheap place to learn to dive in warm, clean water. Rent a scooter and explore the island, you can even do it by foot! Stop to swim at the beautiful Freedom Beach. Snorkel with small black tip reef sharks at Haadthien 'shark bay', maybe even see a big green turtle. Spend the day on the tiny islet Koh Nang Yuan, awesome snorkelling and a beautiful place for taking photos. We have experienced some magical sunsets from pristine beaches and hidden bays on the coast of this amazing island. Don't miss stunning views from John-Suwan, Westcoast and Mango Viewpoint.
Follow Stingy Nomads on Instagram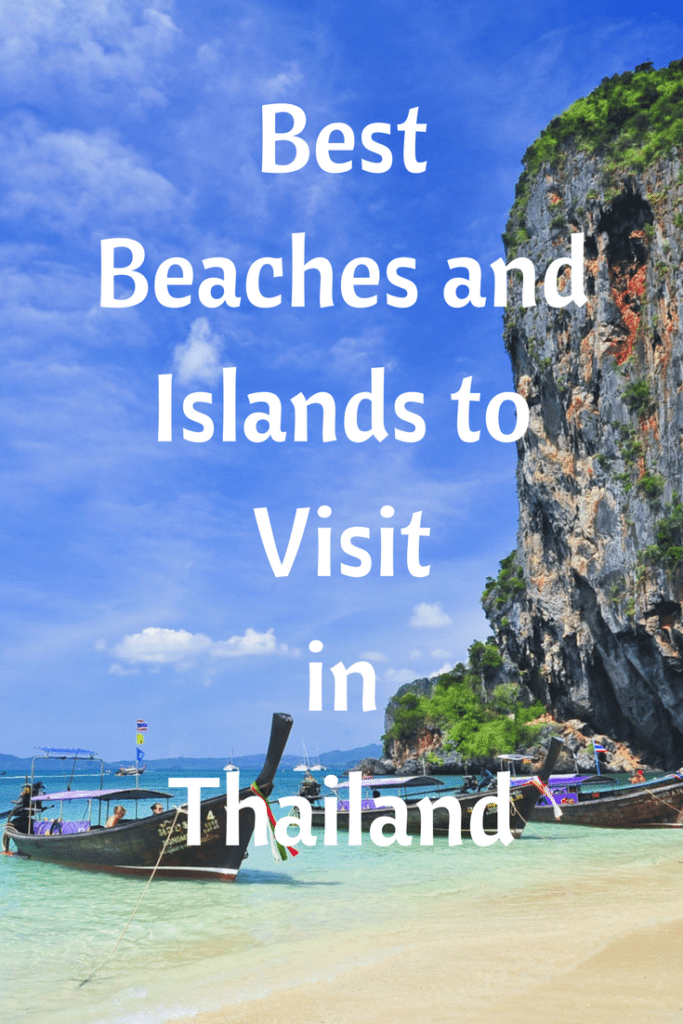 These are the best beaches and islands to visit in Thailand. Let us know of others.