If you are after very traditional Vietnamese food, and street food at its best, then you would be hard pressed to go past Bánh Mì. Bánh Mì is the very popular and on trend Vietnamese sandwich. If you are after one of the very best Bánh mì in the UNESCO listed heritage town of Hoi-An, then meet the Queen of Bánh mì, Madam Khanh.
Where to Stay in Hoi An
There are many properties and styles of accomodation to suit all budgets. Click here for latest prices in Hoi An.
When we arrived at the shop of Bánh Mì Queen of Hoi An, they had run out of bread. But that didn't matter. Locals pulled up on their motorbikes, and they waited. Tourists kept coming into the shop, and we all sat quietly waiting, and salivating. We waited for our Bánh Mì to be ready.
Her sister in law ceremoniously carried a platter of pork Char Siu, through the restaurant tempting us even more. The pork had been slowly cooking in a marinade of soy sauce, honey, ketchup, brown sugar, rice wine, hoisin sauce, and Chinese five-spice powder. Our anticipation was rising.
We had read about her reputation for making Bánh Mì, so as we wandered the charming bougainvillea streets, under the colored lanterns of Hoi An to 115 Trần Cao Vân, we were excited.
What is in this Bánh Mì?
The Bánh Mì Queen of Hoi An serves only one dish at her little café in this charming town, and that is "her" Bánh Mì. The queen is 79-year-old Nguyễn Thị Lộc, and she has been making this dish for 30 years. She is assisted by her daughter and sister in law. The shop front reads "Madam Khan the Banh Mi Queen." Khanh being her husband's name.
The counters are well laid out with all of the ingredients assembled, which have prepared in the morning. The ingredients stay the same for every Banh Mi that is made – pork char siu, pâté, sausage, fried egg, homemade pickles, papaya, carrots, parsley, chili sauce, soy sauce, and her secret sauce, all on a light and crispy baguette.
But what is Bánh mì?
Bánh mì is an airy French baguette with a thin crunchy crust that could contain whatever the person making it chooses to put in it. Bánh mì's has its origin when the French bought it to Vietnam in the seventeenth century and established colonial control in 1887 forming La Fédération Indochinoise.The influence of the French is seen all over the country of Vietnam, and this fusion of Vietnamese food and the French influences have given rise to some incredible food – Bánh mì being one perfect example. The popularity of Bánh Mì is now global.
We saw the bread arrive, and we knew it was time for our first taste of Bánh Mì. They were quietly placed in front of us. We then ate and can attest that she justifiably deserves the reputation of The Bánh Mì Queen of Hoi An. Words cannot describe the tastes, which are finely balanced between sweet, sour, salty and bitter and the lightness of the baguette.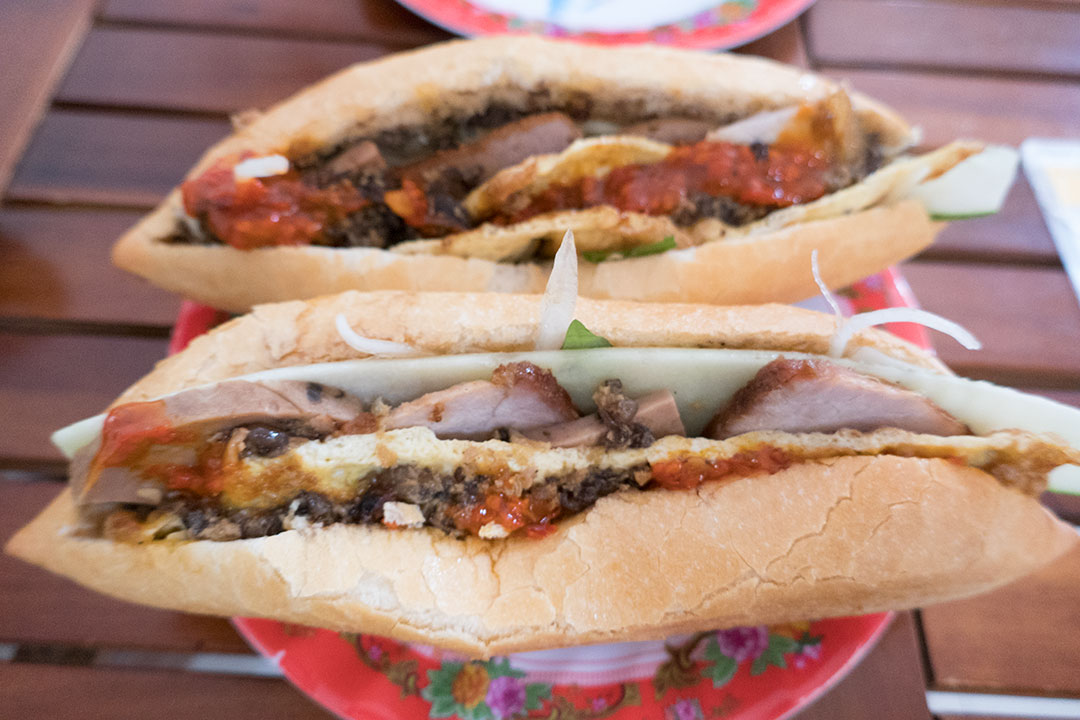 This is Hoi An street food at its best by a perfectionist who knows how to make the best Bánh Mì.
How much?
20,000 VND ($1US or $1.13AU )
Where:
115 Trần Cao Vân
How to Get to Hoi An