Here are the 7 Best Day Trips from Sydney, one for every day of the week. While Sydney has a lot to see and do, why not get out of the city and experience some of the unique things that Australia has on offer. From parachuting to wine tasting, caving to koalas, there is something to cater for everyone's needs.
Best Day Trips from Sydney
1.Blue Mountains Nature and Wildlife Day Tour from Sydney
Discover the beautiful wilderness on Sydney's doorstep on a day trip to the World Heritage-listed Blue Mountains. Enjoy spectacular views over the Megalong Valley and see the Three Sisters rock formations at Katoomba. Meet kangaroos and koalas in the natural bush setting of Featherdale Wildlife Park. This scenic Sydney day tour also takes you over the iconic Sydney Harbour Bridge.
Latest prices and details here
Make sure to stop and have a high afternoon tea at the Hydro Majestic Hotel
2. Wollongong Tandem Skydiving from Sydney
Skydive directly over North Wollongong Beach with a professional tandem master, jumping from an altitude of up to 15,000 feet. Experience the ultimate thrill of a one-minute free fall, then soak up coastal views of Wollongong and the Southern Sydney beaches while you drift down for a few more minutes under the parachute canopy. This small-group experience, limited to eight skydivers, includes round-trip coach transport from Sydney, which is located just one hour from the drop zone.
Make your way to the drop zone in Stuart Park, located just one hour south of Sydney CBD. Alternatively, get picked up at North Wollongong railway station or from selected locations around Sydney including Coogee Beach, Bondi Beach, Kings Cross or the Wake Up! Sydney Hostel.
Start with professional training from a qualified tandem master and learn what to expect on your skydive. After you suit up — the gear includes a harness and skydiving goggles — settle into the plane for a quick flight. Spectators can hang out in the viewing area to watch the skydivers, or even fly up with you for an additional fee (advise upon booking).
When you reach maximum altitude, psych yourself up for a jump that has you free-falling for 60 seconds at insane speeds. When your tandem master pulls the parachute cord, you'll float under a colorful canopy for an additional 5- to 7-minute parachute ride to the ground. It's a good time to catch your breath and soak up the coastal views of Wollongong, the Southern Sydney beaches, Royal National Park and Illawarra.
You'll land next to one of the best surfing beaches in New South Wales. You'll be close to cafes, restaurants, cycling and walking paths, swimming pools, picnic and BBQ facilities, Wollongong Harbour and more if you want to hang out. Alternatively, take provided transportation back to the North Wollongong railway station or Sydney.
Each sky diver receives a commemorative skydive certificate. You can also buy video and photo packages.
If you have more time, read about the best things to see and do in Wollongong
Latest prices and details here
3. Hunter Valley Wineries and Wilderness Small-Group Tour
Take a small-group day trip from Sydney to tour the beautiful Hunter Valley and sample the region's delicious wines, cheeses and chocolate. You'll visit artisanal small-production wineries, hand-feed native animals at an Australian wildlife park and enjoy a gourmet lunch at a vineyard restaurant (if option selected). Tour numbers are limited to 17 passengers on this small-group tour to the Hunter Valley, for a more personalized experience.
Latest prices and details here
4. Port Stephens Day Tour with Dolphin Watching, Sandboarding, and Australian Wildlife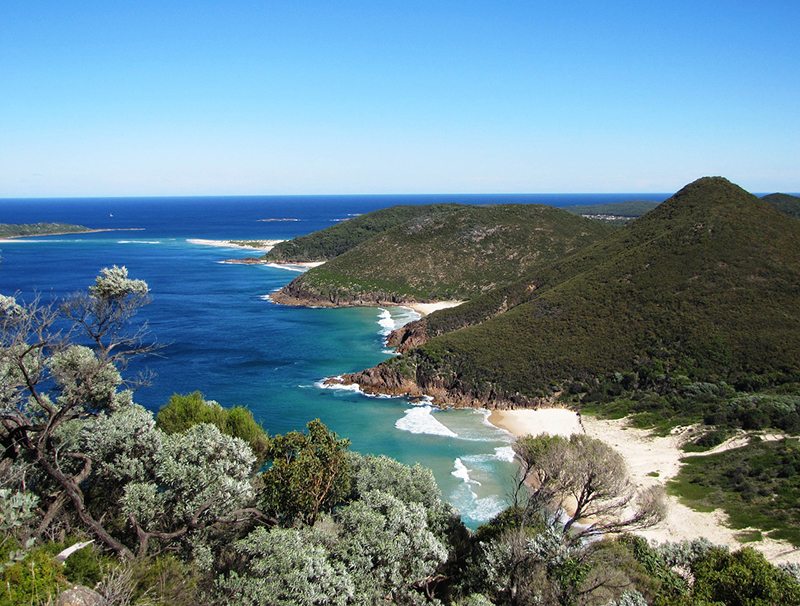 Discover the scenic North Coast region of Port Stephens on a full-day coach tour from Sydney. Visit a wildlife park to check out the critters, then hop on a boat in Nelson Bay to look for bottlenose dolphins. Hit the Stockton Bight Sand Dunes for a 4WD tour and a chance to try sandboarding! With wildlife viewings including Australian favorites like koalas, kangaroos and Tasmanian devils, plus a dolphin-watching cruise and sand dune tour, you'll dive into the natural world just outside urban Sydney. It is an 11 hour day packed full of amazing adventures.
Latest prices and details here
5. Small-Group Blue Mountains Day Trip from Sydney Including Waradah Aboriginal Culture Centre, Featherdale Wildlife Park and River Cruise
Explore the Blue Mountains National Park–including Wentworth Falls, Jamison Valley, Echo Point and the Three Sisters–with an experienced local guide who will show you the best secluded lookouts, rainforest trails and pristine valleys. With stops at an aboriginal cultural center, the mountain village of Katoomba, and a visit to Featherdale Wildlife Park, the day will be filled with Australian highlights. Peaceful nature walks enhance the experience and your small group limited to 14 people ensures an intimate tour with other nature lovers.
Latest prices and details here
6.  Figure 8 Pools and Royal National Park Coastal Tour from Sydney
Head for an adventure down the south coast to explore in the worlds 2nd oldest National Park – the Royal National Park. Enjoy an eco-friendly tour that includes a guided coastal hike and bush walk, visiting beautiful beaches and taking in spectacular coastal scenery, exploring and swimming in the famous Figure 8 rock pools, spotting wildlife all with an experienced and fun local guide.
Latest prices and details here
7.  Jenolan Caves: 2-Hour Plughole Introductory Adventure Caving Experience
Looking for real adventure? Maybe something a little on the dark side?  Although Jenolan, near Oberon, in the Blue Mountains of NSW, is Australia's most spectacular cave system, this experience is NOT about looking at scenery.  It is about personal achievement and doing something that you can't do elsewhere. Join a small group of fellow travelers (no more than 12 people) through a challenging, but exhilarating journey, climbing, squeezing and crawling deep into the heart of a limestone mountain, as actual cave explorers do. Although people of all ages can take on this introductory caving adventure, it requires average strength, flexibility and agility.  No previous caving experience necessary!
The spectacular Jenolan Caves are a 3 hour drive from Sydney Airport.  The caves are situated on the western edge of the Blue Mountains World Heritage Area.  Remember that in Australia, you must travel long distances to get to the really good stuff, so please give yourself plenty of time to drive the steep, narrow, winding mountains roads to Jenolan Caves. Meet our guides at 1:00 p.m., in our Guides Office at Jenolan Caves.
Wear 'active wear' – clothing that can get dirty and which allows full movement.  Sturdy, non-slip footwear is essential.  We fit you out in overalls, helmet and headlamp.  then your journey begins.  This is a genuine adventure experience. Our guides are all highly qualified, mentoring you, the novice caver, all the way.
The 'Elder Cave' is perfect for first time cavers! As your confidence grows, the squeezes get longer. Look carefully, and you'll see some fine crystal, but this tour is not about cave decorations. It is an adventure experience!
Move on through the 'Crystal Chamber' and take time for a breather in 'The Chapel'. The 'Armchair Squeeze' leads you into the fun of the 'Rockpile', then the aptly named 'Letterbox Squeeze'. This adventure is called 'The Plughole' for good reason. The 'S-Bend' is the way out of the cave! Tired and dirty, you emerge into the Imperial Cave, where others will notice your new swagger of confidence.
Later, you can proudly show friends your Certificate of Achievement.
Adventure caving is not just a fun and physical activity. Some find it life changing. It engages your mind and your imagination and leaves you wanting to do more advanced caving!
Latest prices and details here
 7 Best Day Trips from Sydney, one for every day of the week.