At just 80kms from Sydney, with easy train and road access, spending 48 hours in Wollongong is becoming a popular choice for domestic and international travellers.
Wollongong has an enviable location situated between the mountains and the Pacific Ocean and is a lot more cost effective than the city of Sydney. Bordered by 17 patrolled beaches and the Illawarra escarpment, The Gong, as it is called by locals, has become a hot spot Australian destination.
Wollongong is the only place in the east of Australia to have two lighthouses …
What to do in 48 hours in Wollongong
Playing in Wollongong
Hit the Beaches
The Gong has 17 patrolled beaches during the summer months. They are all unique and all stunning.Just remember to swim between the red and yellow flags as there are undercurrents and rips, and not really any sharks as we have aerial patrols.
Meditate at the Nan Tien Temple
The Nan Tien Temple is the largest Buddhist Temple in the Southern Hemisphere. Nan Tien means Southern Paradise in Chinese and it has become the biggest draw card in Wollongong, attracting tourists from all over the world. It has also attracted many people wanting to explore more about this branch of Humanistic Buddhism, which aims to guide you through challenges in life and to promote a harmonious society through helping those in need. With the opening of the Nan Tien Institute, students now come to study at Australia's first government accredited tertiary institution grounded in Buddhist values and wisdom.

Drop out of the skies at Sky Dive the Beach
Many people like to see the city, the beaches and the mountains from an aerial perspective. This is possible by skydiving over it.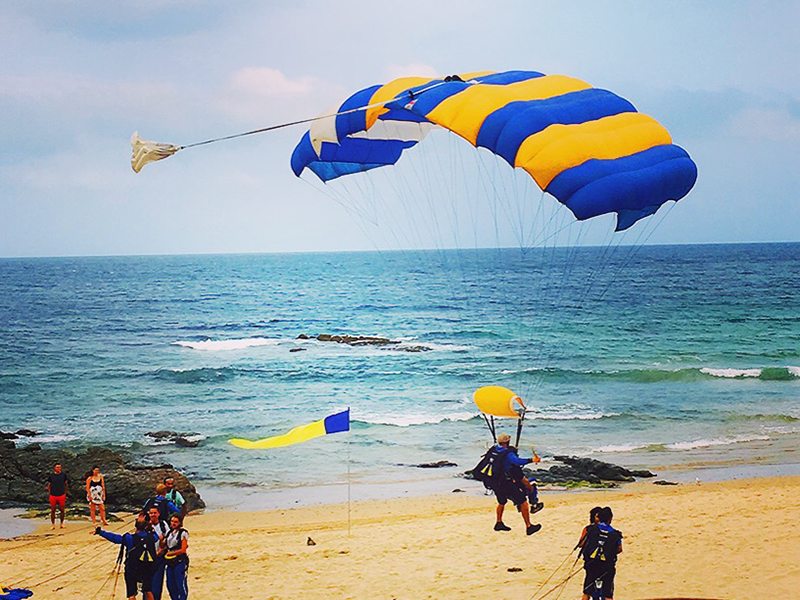 Go Bush Walking
Living on the edge of both the Illawarra Escarpment and the Royal National Park, bush walking is an incredibly popular pastime with locals and visitors alike. Many international visitors go straight to the unique Figure Eight Pools and Wedding Cake Rock. There are innumerable bush trails, many alongside the beaches. Maps for all of these walks can be obtained from the National Parks and Wildlife Services, and Destination NSW
Explore all of the Street Art
Check out the street art in Wollongong. Wollongong annually hosts the Wonderwalls Street Art Festival where they paint the town from end to end. There is  a lot of street art to be discovered in The Gong.
Cuddle some Australian Animals
You have to see the native animals of Australia when you spend 48 hours in Wollongong. While you will see many in the bush, and bird life everywhere, if you want to get your koala and kangaroo fix, and a wombat and a snake fix, then Symbio Wildlife Park is close by. It is just 30 minutes from Wollongong along the most spectacular stretch of road in Australia, the Grand Pacific Drive.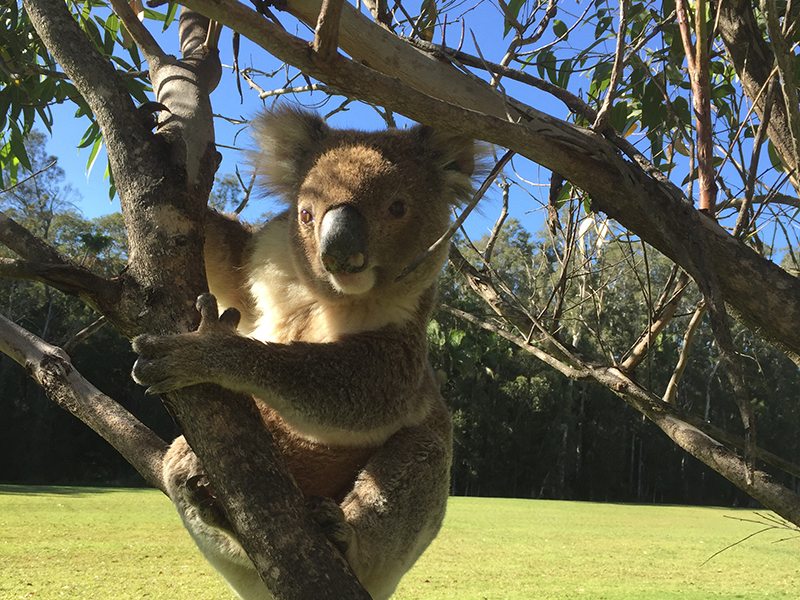 Enjoy some Scenic Drives
The Grand Pacific Drive is 140 kilometer of some of the most spectacular coastal scenery, and take you over over the iconic Sea Cliff Bridge. It meanders through rainforests, through chic little beach villages and towns, and down to Kiama. This is an amazingly beautiful town, and you can stop and admire the blowhole, a landmark has attracted people to the region for over 100 years. You then continue down to the Shoalhaven area of NSW, well regarded for its food, wineries, and beaches.

Hit the pedals and go Cycling
There are over 60km of cycleways in and around Wollongong, with beach and mountain rides, suitable for all ability levels. Cycling s hugely popular in The Gong.

Wander the Magnificent Parks
Wollongong has a stunning Botanic Garden with a backdrop of Mt Keira. It is a popular place to wander around, and feed the ducks in the park.
Staying in Wollongong
Wollongong has a range of accommodation options from 5-star hotels on the beach to various other offerings. Wherever you are in Wollongong, you will never be far from a beach.
At just 80kms from Sydney, with easy train and road access, spending 48 hours in Wollongong is becoming a popular choice for domestic and international travellers.
Eating and Drinking in Wollongong
As a highly multicultural city, you are going to be spoilt for choice on what and where to eat. Eating out is a hobby and sport for the residents of the city, and due to the perfect climate alfresco dining is highly popular. There are lots of trendy bars, some great pubs, and you can even pop into the bowlo (bowling club) for a beer and some bare foot bowls action. You can even have a beer from our famous bushranger, Ned Kelly's beard. 
Have you noticed that you will need a lot longer than just 48 hours in Wollongong, Australia?