Spending 48 Hours in Valencia will introduce you to one of the most incredibel cities in Spain. Valencia is the third largest city in Spain and is also known as the City of Science and Arts. Valencia is not only naturally beautiful with a lot of beaches and historic sights but also has some of the most awe-inspiring futuristic structures. It is an excellent place to visit and spend a weekend. You cannot go there without trying the Valencia paella, which is world famous.
Getting around Valencia
Get a Valencia Tourist Card for 24, 48 or 72 hour, which gives you free public transport around the city on the bus, Metro and Tram zones. It including the journey Valencia-Airport-Valencia as well as Free entry to Public Museums and Monuments. 
Day 1 of your 48 Hours in Valencia
Check out Albufera Park
The first day in this city demands that you ditch the bed earlier than usual to enjoy the sight of the rising sun over one of the fantastic beaches near the Albufera Park where you can enjoy the superb experience of bird-watching with some of the rarest species of birds.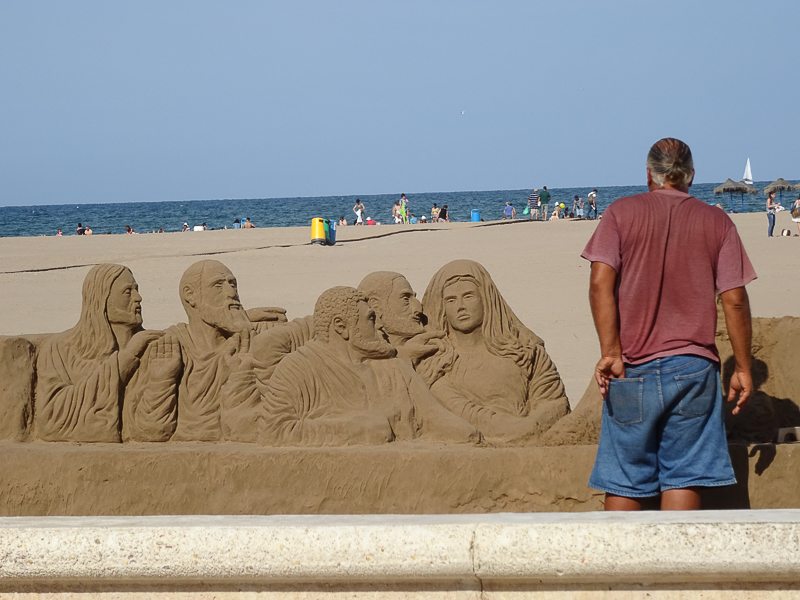 Enjoy a latish breakfast
Once you are done you have to try horchata and eat a farton at Horchata de Santa Catalina in Valencia. Horchata is made of chufa or tiger nuts, sugar and water this is the thing to drink on a hot day or at one of the innumerable meal breaks, that Valencians have. You need to eat a sweet farton with it. A farton is a light pastry, and a Valencian word meaning that you eat a lot. You can find horchata all over the city though Horchata de Santa Catalina is an excellent place to try this delicious drink.
Address: Plaça de Santa Caterina, 6, 46001 València, Valencia, Spain
Visit City of Science and Arts and L'Oceanografic
Next visit L'Oceanografic a huge aquarium that houses sharks and dolphins as well or the City of Science and Arts which is a top notch architectural and entertainment center.
Get some culture at Museu Di Les Ciencies Principe Felipe
The afternoon should be spent at a museum that displays content of interest like Museu Di Les Ciencies Principe Felipe which is part of the City of Science and Arts or the Museu De Belles Arts De Valencia which houses depictions of Flemish fine arts. In addition to this, there is a museum of contemporary arts and one for archaeological sites.
 L'Oceanografic  Ciudad de las Artes y las Ciencias, Ciutat de les Arts i de les Ciències, Carrer Eduardo Primo Yúfera, 1B, 46013 Valencia, Spain
In the evening
Take in the views from towers at Torres De Serranos before dinner
You can enjoy coffee at a good café like Cappuccino Grand Café and rest for a while. At night you can enjoy an aerial view of the city from the towers at Torres De Serranos to enjoy the sight of the illuminated city. For dinner, you can head to any of the Michelin-starred restaurants like Vertical situated on the ninth floor of a hotel where lavish multi-course meals are served in a world-class ambiance.
Cappuccino Grand Café:  Plaça de la Reina, 46001 València, Valencia, Spain
Torres De Serranos: Plaça dels Furs, s/n, 46003 València
Michelin-starred restaurants like Vertical: Hotel ILUNION AQUA 4* ( Centro Comercial AQUA), Calle Luis García Berlanga, 19, 46023 Valencia
Day 2 of your 48 Hours in Valencia
Explore Jardin Del Turia River and Bioparc
Start the next morning with a stroll along the Jardin Del Turia River enjoying the stunning sights and head to the Bioparc in the west, an animal park, to enjoy a sight of wild animals like lions, giraffes, gorillas, and zebras, etc. in their recreated natural habitats.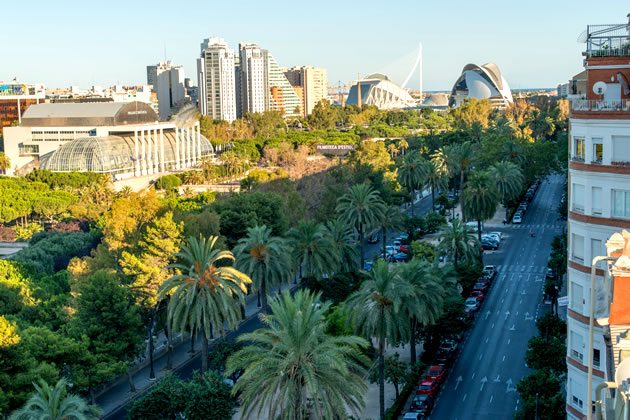 You can spend the rest of the morning getting mesmerized by the sights in this park and then stroll towards a traditional restaurant to enjoy a delicious lunch. A good choice will be Les Graelles which has an antique interior with arch-stoned ceilings and dark-wood furniture.
Visit Ruzafa in Valencia, Spain
Then you can take a walk to a beautiful cathedral and church in the afternoon to be amazed at the architecture and arts of ancient times. You can spend the latter half of the evening at Ruzafa which is the hippest place in town with some vintage shops, bike shops, and other such sites.
Go the Beach
Alternatively you could take a paella cooking lass, or head to one of the Blue Flag Beaches of  Las Arenas, Malvarrosa and El Cabañal. These beaches have been awarded certifications such as the Q for Tourist Quality.
Where to Stay in Valencia, Spain

Whatever you do for your 48 hours in Valencia, Spain it will have you wanting more of this avant garde city.