We had the most incredible time in Aarhus in Denmark and wanted to share with you how to spend 48 Hours in Aarhus. This city is edgy, historic, trendy, and very cultural. It is a place you need to put on your must see list. Aarhus is pronounced 'or-hooss', FYI. There is just something about Denmark that is different in a very good way. It started in Copengahen, and you can read about our visit here, and then was reinforced in Aarhus.
Aarhus in Denmark was awarded the title of European Capital of Culture in 2017. As Denmark's second city, Aarhus, has something for everyone. The perfect blend of old and new, this fascinating city combines modern architecture with ancient traditions to create a wonderful short break destination. Spend 48 hours on this amazing destination and discover art, history, culinary delights and interesting museums.
How to get around Aarhus?
Aarhus is an easy city to explore, and you have plenty of options when it comes to getting from A to B. Many of the attractions can be reached easily on foot, however, for less accessible spots, there are also free city bikes. Those who would prefer to travel by public transport can enjoy free bus travel and local train transport, not just around the city but also around the Central Denmark region by getting an AarhusCard.
Top 5 Things to See and Do in 48 Hours in Aarhus
Explore The Waterfront
The Aarhus Ø quarter is a fascinating waterfront district which is home to some of Denmark's most pioneering architecture. Here, you can see a wealth of unique building styles including the Iceberg apartments, which look just like ice shards. Walk or cycle around this area and watch out for live concerns, salsa classes, and group volleyball events being held here during the summer months.
Discover Your Artistic Side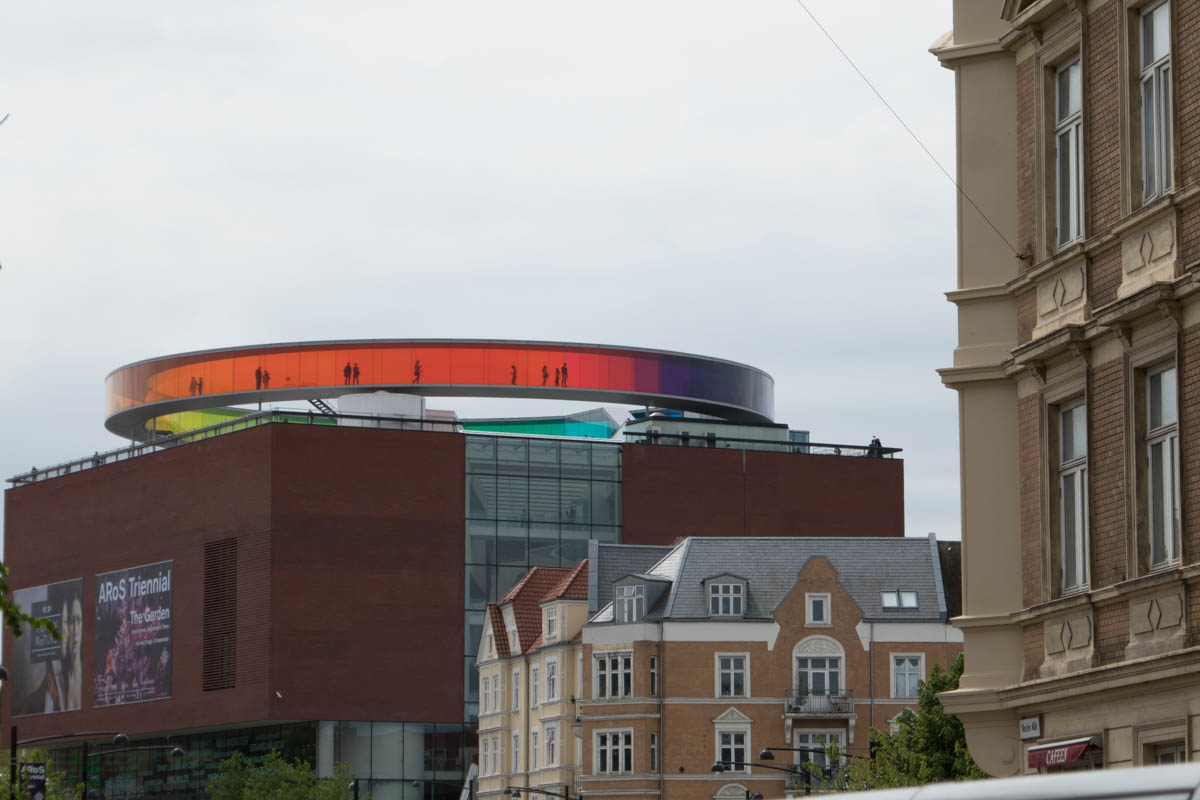 Art lovers are sure to appreciate the AroS art museum. However, even those who doubt that they have a creative side are sure to be amazed by this gallery with its unique design based on the Divine Comedy by Dante. The concept of this unusual space is sure to impress even the hardest to please visitor, whether they prefer to 8th floor Old Masters collection of traditional artworks or the spectacular rainbow walkway which offers a panoramic colour-soaked view over the city.
Find Out About Aarhus' Past
Those who are bored by traditional museums are sure to love the breath of fresh air that is the Aarhus Den Gamle (translated as the Old Town Museum). This modern attraction gives an interactive insight into Danish life through the years, with pickling demonstrations, food tasting opportunities, a rebuilt 1970s commune and interactive exhibits that keep visitors of all ages thoroughly entertained and engaged as they learn.
Learn About The Vikings
Take a trip to the natural splendor south of Aarhus city centre and visit the MoMu, Moesgaard Museum. This uniquely designed building is an architectural wonder while housing state of the art exhibitions that showcase the cutting edge research dramatised storytelling and staged settings of Denmark's Viking past.
Experience The Latin Quarter
No trip to Aarhus would be complete without discovering the traditional architecture of the Latin Quarter (or Latinerkvarteret in Danish). A wonderful contrast to the bold modern architecture elsewhere in the city, this district is home to beautiful buildings, and none more attractive than those in the Møllestien side street where you can find photogenic cottages in bright colours as well as some fine examples of unusual street art.
Where to Eat in Aarhus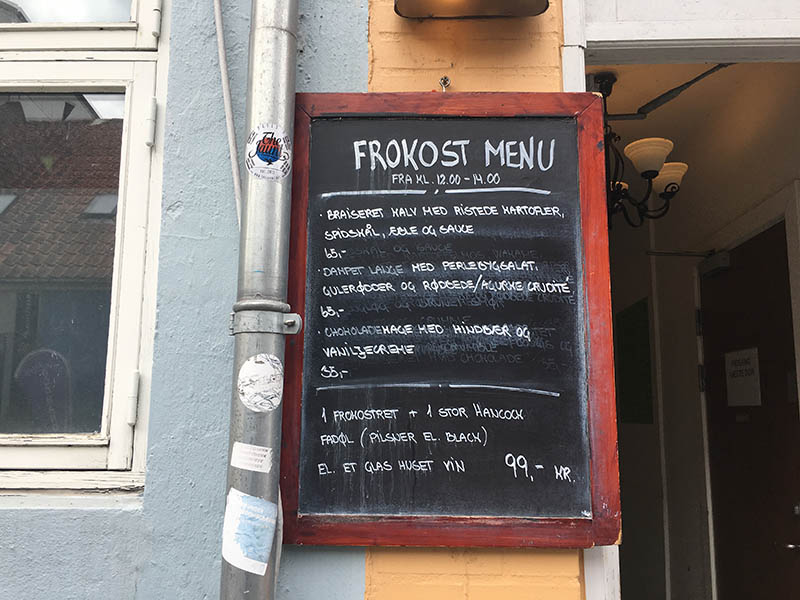 Aarhus is a bit of culinary legend, with Lonely Planet, ranking Aarhus amongst the top culinary destinations in the world, claiming that Aarhus represents " hyper-local dining with flair.". There are choices from Michelin star restaurants like Domestic, to good old Danish cooking, like "den lille kro' (the Little Inn), located at Nørre Allé 55.
Then there is Aarhus Street Food, which opened in August, 2016 in an old bus garage at the heart of downtown Aarhus, a few minute's walk from the Central Train Station and located at Ny Banegaardsgade 46. The again you can grab a bit to eat and sit at the Aarhus River and indulge in some people watching of this fascinating city. You won't go hungry in Aarhus.
Top 5 places to stay in Aarhus, with TripAdvisor Reviews and Prices
Hotel Royal in Aarhus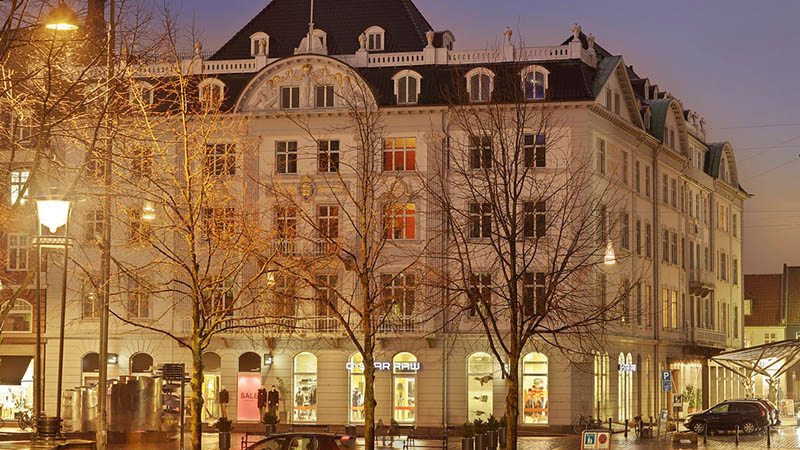 The Hotel Royal is a classical de luxe hotel, built in the heart of Aarhus in 1838. Every room is individually fitted out, including fine art In-house restaurant, bar and night club, and  the Royal Casino.
Zleep Hotel Aarhus
Close to Aarhus city center. Enjoy free WiFi and free parking.
Cabinn Hotel Aarhus
CABINN Aarhus Hotel is one of the city's best-situated hotels, colse to the many shops on the pedestrian street and the lively cafés along Aarhus River
Hotel La Tour
Close to parks, museums, the cathedral and theaters in Aarhus
AARHUS Guldsmeden Hotel
The original Hotel Guldsmeden, named after the street where it all originated – Guldsmedgade – which used to house a number of goldsmiths and jewellers.
48 Hours in Aarhus will not be enough, but it will be enough to entice you back to this edgy city in Denmark.