Here are the 15 Best Islands in the Philippines to Visit.The Philippines have over 7,000 islands, perfect beaches, stunning nature, and the local people are friendly. We fell for the Philippines when we visited last year. We loved the people and the hospitality; it's called  Filipino Culture or Pinoy charm, and that is why we asked our fellow travel writers from around the world, to share the Best Islands in the Philippines with us ..and you.  Quite frankly we had not heard of some of these treasures.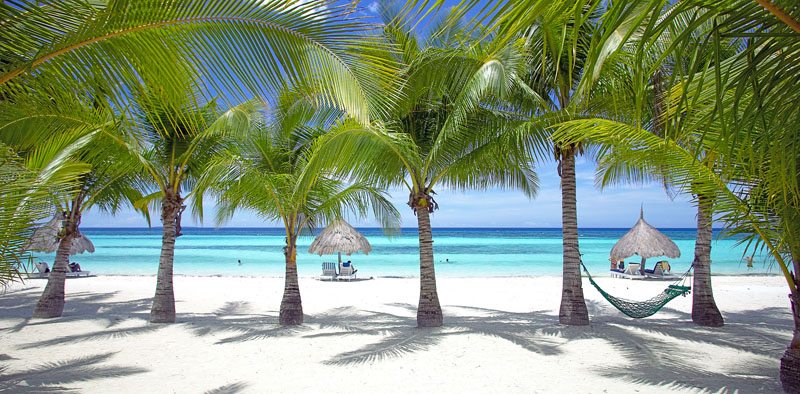 *Bonus two extra best islands in the Philippines* making it 17.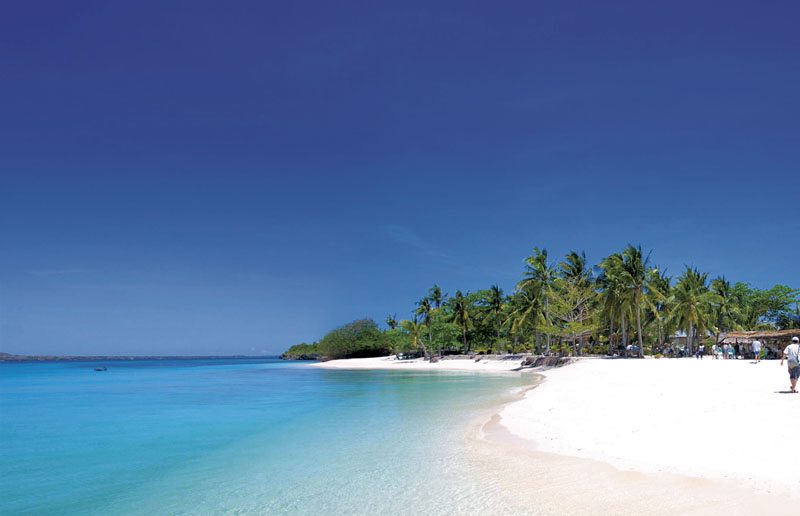 It's more fun in the Philippines
The Philippines is a very popular place to visit, and the islands have long attracted travellers.  We were fortunate that the Tourism Promotions Board Philippines have helped us with many photographs, and we thank them. The slogan that 'it's more fun in thePhilippines', is very correct as you will see.
Another bonus is that the Philippine's is a cheap country to visit, and you will get excellent value for money. Did I mention that the food is fantastic also? Did I mention that they are seriously obsessed with Christmas, and shopping malls, and beautiful, beautiful islands with crystal clear waters, and … well, read on and find out….about the best islands in the Philippines.
About Visiting the Philippines
Getting to and around the islands of the Philippines
To get to Manila, the capital city of the Philippines, and to get to to the Best Islands in the Philippines, you will generally need to make some internal flights with Cebu Pacific and/or Air Philippines. Check Skyscanner for the best prices for your flights.
Best time to visit the Best Islands in the Philippines
The Philippines has a hot and humid tropical climate with a wet season from May to October and a dry season from November to April. The best time to visit the Philippines is during the dry season, though in reality, any time is a good time.
Currency in the Philippines
The currency is the Philippine peso. Check xe.com for currency conversion rates
Is it Safe to Visit the Philippines?
Let's be honest, there have been some issues in Mindanao region, but we are recommending islands where we know there is peace and stability. As with any country you visit, always check your government websites. During our 8 days in Manila, we always felt safe.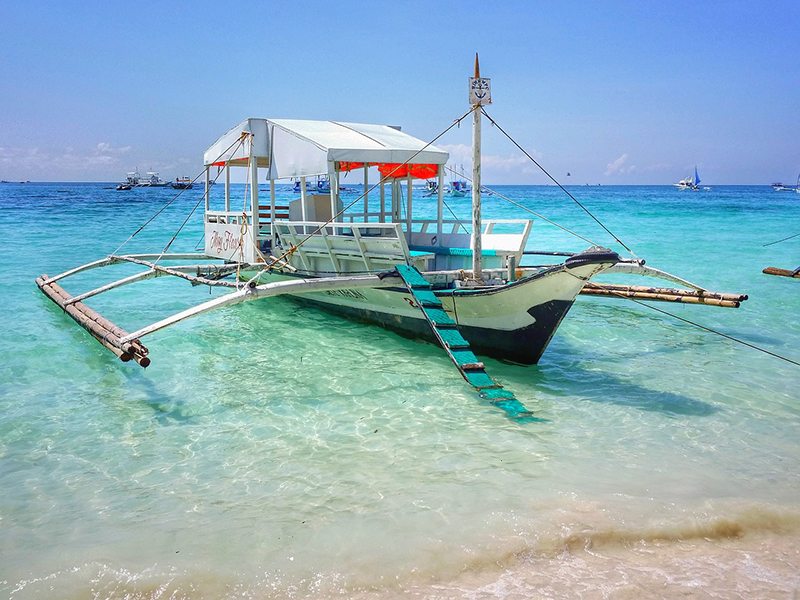 Staying and exploring Manila
Manila is the capital city of the Philippines. Most visitors to the Best Islands in the Philippines will arrive here and need to spend a night before flying to the islands. It is definitely worth spending a few days in Manila and exploring Intramuros, the historic center and oldest district of Manila;  Binondo, the oldest Chinatown in the world, and also exploring one of the mega malls. We stayed for eight days in Manila, and while the traffic drove us mad, we loved the city. You can read about this in what to do in Manila.
We suggest that you stay in Manila, and the hotels we recommend are Hotel Jen Manila, for amazing staff, great food and a wonderful view of the city. You can get the latest prices here. We also recommend Raffles in Makati, because Makati is uber cool. The latest prices are here If you can, because it is decadent and close to the airport and fun, then stay at  The Hyatt City of Dreams, and make sure you go to their nightclub, Chaos. Latest prices here.
15 Best Islands in the Philippines to Visit
Visit Luzon – The largest of Philippine's islands
Where is Luzon?
Luzon is the largest island of the Philippines. The capital city of Manila is on Luzon. The international airport is on the south side of the Metro area while the highway to Banaue is on the north side of the Metro area.
How to Get Around Luzon
Manila's airport is on the south side of the Metro area while the highway to Banaue is on the north side of the Metro area. Luzon is a big island, and local transport is probably your best best. Driving in the Philippines takes a lot of nerve.
How to get to Banaue on Luzon?
The Banaue rice terraces are located in the mountainous north central region of Luzon island on very good roads all the way from Manila to Banaue if you take the Eastern Highway. While Banaue is only 350 km from Manila, this drive takes about nine hours. The bus is the way to get there.
Visiting Luzon
Home of the crazy capital Manila, Luzon is the Philippine's largest and most populous island. The island is known for its mountains, beaches, coral reefs and Spanish-colonial landmarks. Luzon is an unreal playground for nature and adventure lovers. Do a multi-day hike through the astonishing rice paddies of Banaue visiting local villages on the way. The easy, perfect wave of San Phillipe is an awesome place to surf and a great spot for beginners. Donsol is the place to go if you want to snorkel with whale sharks; these 40ft gentle giants are world's biggest fish! Diving here is spectacular offering mantas, whale sharks and a bewildering array of small critters. Don't miss the Spanish colonial and Asian architecture aligning the cobble stone streets of Vigan a beautifully preserved town.
Follow Stingy Nomads on Facebook
Tours in Luzon
3-Day Banaue Heritage Tour from Manila
Commonly referred to as the "Eighth Wonder of the World", the Banaue Rice Terraces will take your breath away. These 2000 year old terraces were hand-carved into the mountains of the Cordilleras by the Ifugaos. This UNESCO World Heritage Site is located approximately 1500m (5000 feet) above sea level and cover 10,360km2 (4000 square miles) of mountainside.
Check here for tour details and prices
Where to stay on the island of Luzon
It will depend on where you want to explore on this diverse island. For best hotel deals check here at Hotels Combined who compare all hotel booking sites for you.
Visit Boracay Island – The Party Island
Where is Boracay?
Boracay is a small island in the Philippines located approximately 315 km (196 mi) south of Manila
How to get to Boracay
Boracay Island does not have its own airport. The closest is Caticlan Airport, called Godofredo P. Ramos Airport. The easiest flight is with Cebu from Manila and takes less than an hour. Check here for most competitive prices. From this airport, is takes 10 minutes to Caticlan jetty port. Here their speedboats and local outrigger boats to take you the to Boracay, 15 minutes away.
Boracay island doesn't have its own airport.
Visiting Boracay
by Jo at ZigaZag
Boracay is a tiny island in central Philippines well known for it's resorts and beaches – particularly White Beach which is the main attraction. 
This is the beach to visit if you like action as it's lined with restaurants, dive shops and bars and the sea is full of outrigger boats with colourful sails offering rides. 
If you like something a little quieter then try Puka Beach (famous for its Puka shells).
You'll probably arrive via Kalibo Airport or Caticlan Airport (closer) and definitely hop on a ferry to the island. Depending on the tide, and the boat you're on, expect a 10 to 20 minute ride and you might have to wade in knee deep once you get to the shore, but that's half the fun of it.
Once at Boracay, you'll find endless entertainment; you can snorkel, scuba dive, parasail or just explore the coves. Visit Crystal Cove and Bulabog Beach on the eastern side of the island which is known for its kitesurfing opportunities.
Then relax on White Beach with a cocktail and watch the sunset.
Follow Jo on Pinterest
Tours in Boracay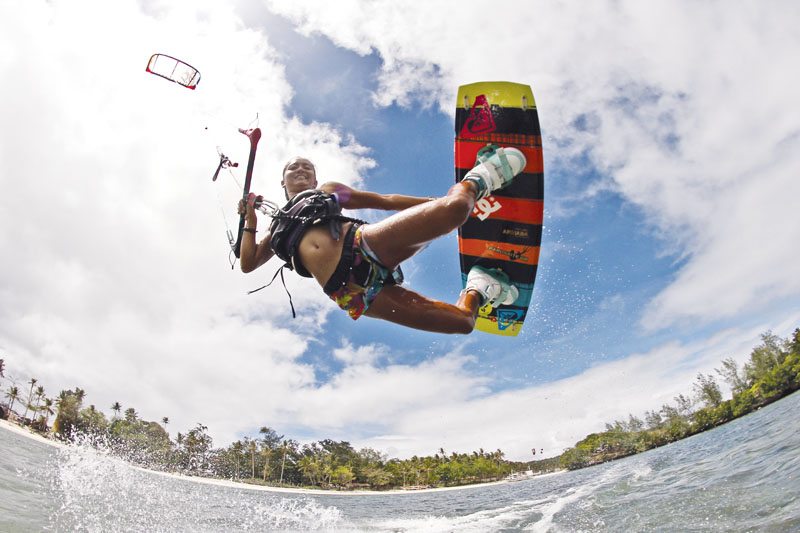 Sometimes it is easier to take a tour to explore what is on offer in Boracay. We have selected two we think have a lot of appeal from Viator.
Island Hopping Tour
Depending on tides and weather conditions you will visit the following spots; Crystal Cove, Crocodile Island, West Cove, Puka Beach, Balinghai Beach and Magic island.  Lunch and snorkelling gear and more are included.
Check here for tour details and prices
Private Filipino Cooking Class in Boracay
Learn to cook like a local with locals
Check here for tour details and prices
Where to stay on Boracay
Image by Tourism Promotions Board Philippines
There is a large range of accommodation options on Boracay to suit all budget. We have used Hotels Combined because they compare all of the hotel booking sites to bring you the lowest price.
Luxury Accommodation on Boracay
Shangri-La's Boracay Resort & Spa
Amazing †luxury‡, incredible experience on Boracay latest prices here.
Mid-Range Accommodation on Boracay
Monaco Suites de Boracay
Great location and amazing views. Latest prices here.
Budget Accommodation on Boracay
Bans Beach Resort
Great Location and Affordable Rates Latest prices here.
Visit Palawan – where water and rainforests meet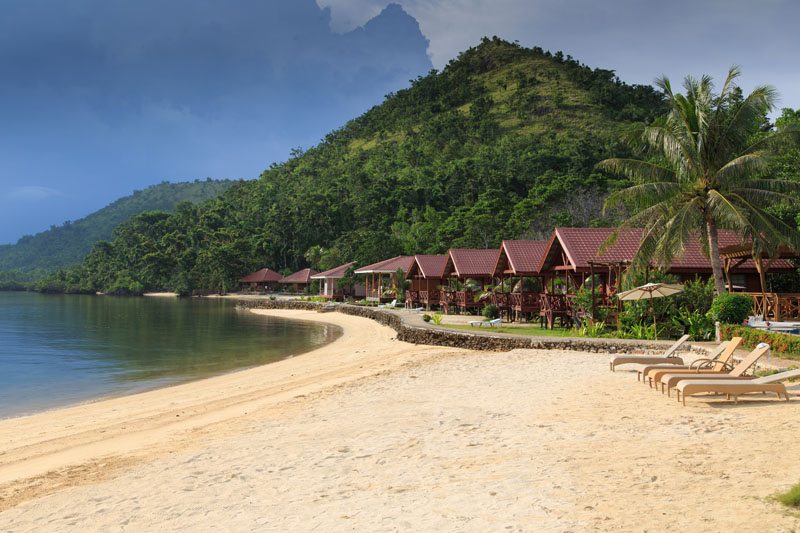 Image by Tourism Promotions Board Philippines
Where is Palawan?
Palawan, officially the Province of Palawan is an archipelagic province of the Philippines that is located in the region of MIMAROPA. Puerto Princesa is the coastal city on Palawan Island where flights arrive.
How to Get to Palawan?
By Air From/To Manila. Air Philippines, Cebu Pacific, and Philippine Airlines fly to Puerto Princesa City every day. Flying time is 1 hour and 15 minutes. Check the best prices on Skyscanner
Visiting Palawan (Puerto Princesa, El Nido, Coron)
Palawan Island is on everybody's lips…and for all the right reasons! If you're looking for a slice of paradise, this truly is it. Pristine fine white sand, emerald blue, crystal clear waters, stunning limestone karsts and endless opportunities for adventure can be had on this tiny Filipino island.
I recommend starting your trip in Puerto Princesa, for some top-notch island hopping and to visit the UNESCO Underground River. Once you've eaten some of the best food on the island here (the seafood is heaven melting on your tongue) then head up to the infamous El Nido for even more island hopping. To finish your spectacular trip off, grab a ferry to Coron and discover a whole bunch of sunken Japanese warships, waiting to be explored by you. For everything you need to know about visiting El Nido, read this.
Follow teacake travels on Pinterest
Tours in Palawan, Coron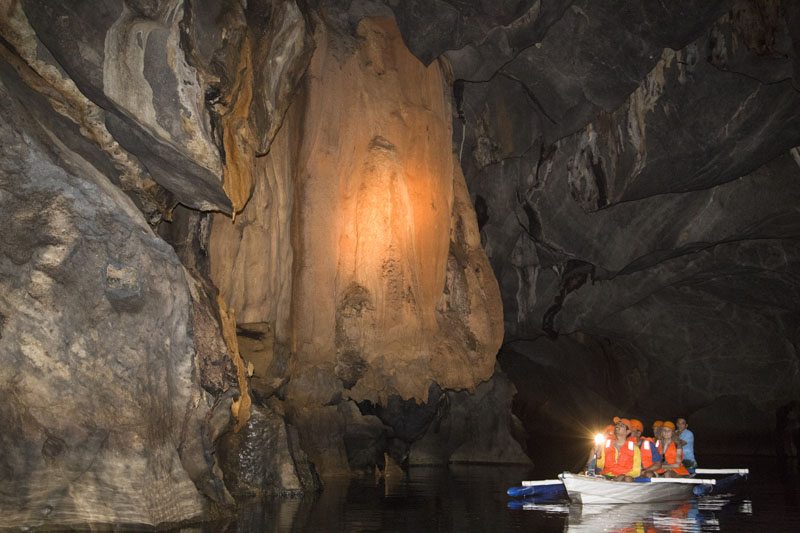 3 Day Coron Vacation Package
Check here for tour details and prices
Full-Day Coron Island Ecotours – 8 hours
Coron Island Ecotours in Calamianes Islands of Palawan is truly a paradise, where Nature is at its most engaging – from majestic limestone cliffs, hidden lagoons, lakes, to vivid underwater coral gardens teeming with marine life. This is an island day adventure and guided tour you will treasure for years to come, the experience you will want to savor again and again.
Check here for tour details and prices
Amazing Underground River Cruise and Ugong Rock Adventure from Puerto Princesa
This is a combination of 2 tours in 1 day. Sail into the underground river in Palawan dominated by vast stretches of virgin forest and dramatic mountain ranges. Discover the stalagmites in the cave that look like people and the strange shapes growing out of the wall along with your experienced local guide on this 8-hour trek. Climb on Ugong Rock and have fun with a zipline seeing the view of the Karst mountain. Lunch and round-trip hotel transportation is included.
Check here for tour details and prices
Image by Tourism Promotions Board Philippines
Luxury Accommodation on Palawan
Princesa Garden Island Resort and Spa. Latest prices here.
Mid-Range Accommodation on Palawan
Munting Paraiso Latest prices here
Budget Accommodation on Palawan
Palawan Village Hotel Latest prices here
Visit Siargao Island – the island of great surf breaks

Where is Siargao Island?
Siargao is a tear-drop shaped island in the Philippine Sea situated 800 kilometers southeast of Manila in the province of Surigao del Norte
How to Get to Siargao Island
You can fly direct to Siargao or fly to Surigao City then take a ferry to the island. You can also take a ferry from Cebu or Manila.
Visiting Siargao Island
by Jub Bryant of Tiki Touring Kiwi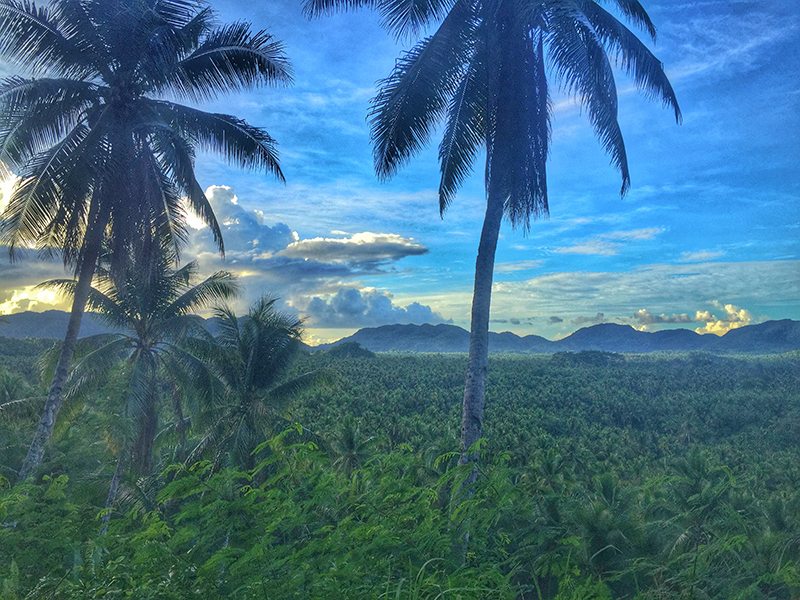 Siargao is home to Cloud 9, the famous surf break. Surfing is what Siargao is known for, however, if you're not a surfer, there are still plenty of other activities to keep you occupied on this special island in between relaxing on the beach.
Your first goal is to rent a scooter, it's the main form of transportation and allows you to explore the green island, including an obligatory stop at Taktak Falls. If you don't do scooters, you have private transport options.
The Magpupungko Rock Pools are an island favourite. You'll need to ask a local for the best time to visit while you're there as you can only visit safely during low tide.
Like snorkelling? The islands surrounding Siargao are waiting for you to take a day trip to hop around the clear waters and at the end of the day, head to Santa Monica Pier for a gorgeous sunset.
Having spent a week on Siargao, I love this island. The island still has that feeling of being undiscovered given it's a little bit trickier to get to compared to other islands in the Philippines (and there's no Jollibee's).
Follow Tiki Touring Kiwi on Facebook
Exploring Siargao
Siargao in Surigao del Norte is one of the best islands to visit in the Philippines. This teardrop-shaped island is mostly known as the premier surfing destination in the country and holds international competitions yearly, although it also offers more than great waves. In Siargao, you can go island hopping and feast on fresh seafood (Guyam, Daku and Naked islands), explore underwater life in its many dive spots, swim in a clear natural pool (the Magpupungko rock pools), visit preserved mangrove forests and kayak in a quiet lagoon (Sugba Lagoon in del Carmen) or go spelunking in one of its newly discovered caves.
Siargao also has a very chill vibe. It's the go-to place for professional surfers and even tourists who're looking for a refreshing vacation.
Follow Tara Lets Anywhere on Facebook 
Where to stay on Siargao Island, Philippines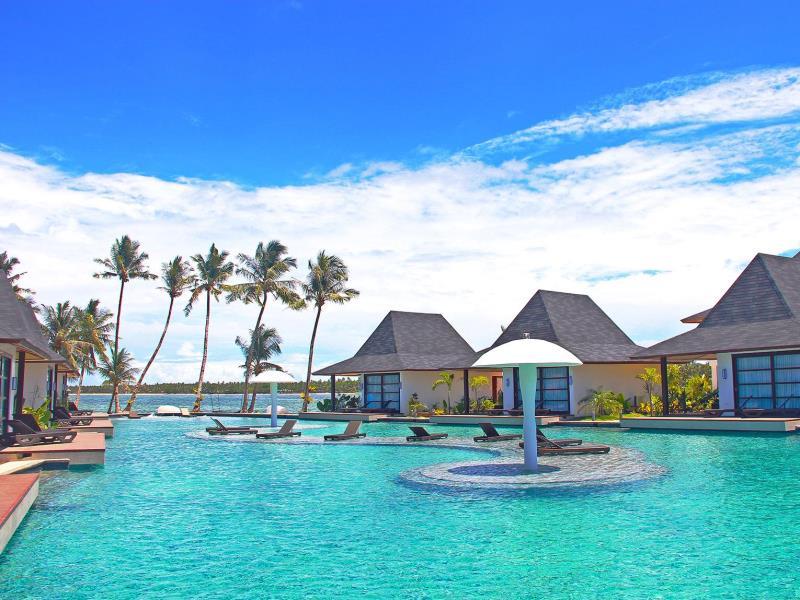 Luxury Accommodation on Siargao Island
 Siargao Bleu Resort and Spa – latest prices here
Mid-Range Accommodation on Siargao Island
 Ocean 101 Cloud 9 Surf Resort – latest prices here
Budget Accommodation on Siargao Island
Popular surfer accommodation at Patrick's on the Beach – latest prices here.
 Visit Siquijor Island – the island of black magic and witchcraft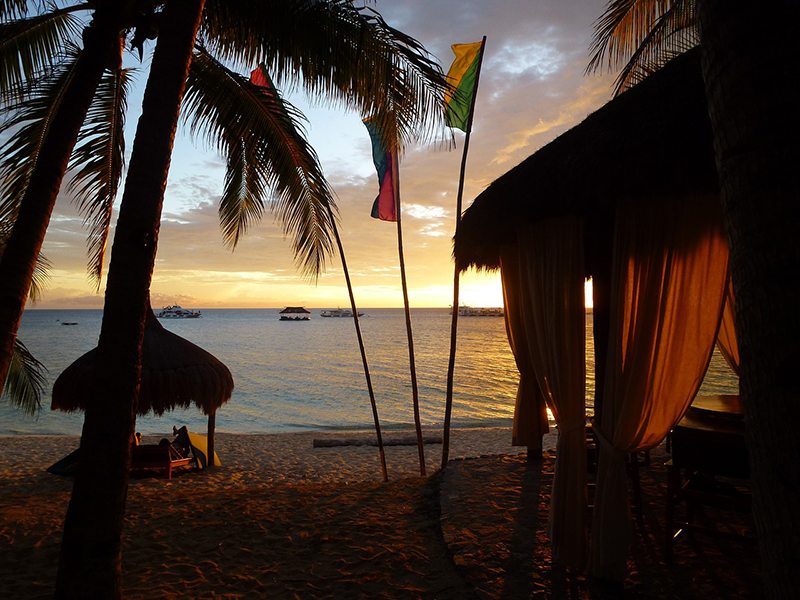 Where is Siquijor Island?
Siquijor is a tiny and remote island in the Visayas.
How to Get to Siquijor Island?
Siquijor does not have an airport. The closest one is Dumaguete, and there are many direct flights from the capital Manila.
Visiting Siquijor Island

The island of Siquijor is known for black magic and witchcraft. Because of this stigma and by being surrounded by its more famous neighbors; Cebu, Negros and Bohol, the island of Siquijor remains one of the most unexplored islands in the Visayas. This means less tourists, less chaos and more adventures for travellers.
From the nice beaches of Salagdoong, Tubod and Kagusuan, there are also lots of options for water falls and forest to explore. The most recommended things to do is to relax at the beach or try the over 20 amazing dive sites on the island. These include two walls, sunken island and marine sanctuaries which are known for the variety of macro life and healthy reefs. Siquijor might not have the crazy parties that Boracay can offer or the crazy seascapes of Palawan but what makes it special is the fact that it remains untouched by excessive commercialism and retain that mysterious charm that you can only find on this island.
Follow The Travelling Pinoys on Facebook
Where to stay on Siquijor Island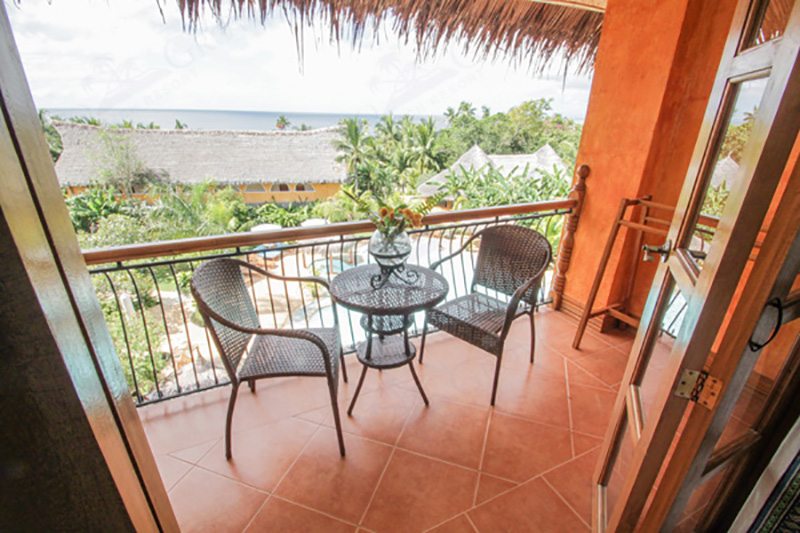 The island is not big so that you will garb a bargain even at the luxury end.
Luxury Accommodation on Siquijor Island
Coco Grove Beach Resort – Latest prices here
Mid-Range Accommodation on Siquijor Island
Golden Beach – latest prices here
Budget Accommodation on Siquijor Island
Serena Beach. Siquijor – latest prices here
Visit Bohol Island – the island of chocolate hills and tarsiers
Where is Bohol?
Bohol is located in the central Philippines and can be conveniently reached by air and boat.
How to Get to Bohol Island
How to Get to Bohol Island
Fly from Manila to Cebu, and then continue by boat. The flying time is about 50 minutes. The transfer by taxi from the airport to the pier takes about 30 minutes in normal traffic conditions. The following airlines fly from Manila to Cebu: PAL, Cebu Pacific, Air Philippines, Asian Spirit, Astro Air, and Grand Air. Latest airfares can be found at Skycanner who compare all airlines.
Visiting Bohol Island
by Margherita of The Crowded Planet
Last year we spent a month in the Philippines, covering several islands, and Bohol was easily my favorite. Bohol and its tiny neighbor Panglao offer a variety of landscapes and activities that I didn't find anywhere else in the country – and many activities are nature-related. The not-to-be-missed places to visit in Bohol include the super-famous Chocolate Hills and the nearby tarsier sanctuary – however please make sure you're visiting the real sanctuary, not one of many commercial copycats. Other Bohol attractions include paddling or cruising on the Bohol river, touring the island by motorbike, visiting the Bohol bee farm, diving in Panglao… we spent one entire week in Bohol and it wasn't enough!
Follow The Crowded Planet on Facebook
Exploring Bohol Island
by Sharon of Where's Sharon?
There are many islands in the Philippines, but Bohol is my favourite because there are so many cool things to do here with lots of variety.
It has the usual Philippines attraction, i.e. the beach, but it also has the famous Chocolate Hills (pictured here) and their most famous resident, the tarsier to visit. Tarsiers are a small species of monkey that live in trees and are only found in very limited places. They are super cute – think gremlins before they touch water!
There are also jungle areas with activites such as zip lining, chair lifts, walks, fishing and river cruises. We especially enjoyed seeing fireflies. The usual water activities like diving and snorkelling are also on offer.
Tours in Bohol
Visit Moalboal Island – for scuba diving 
Where is Moalboal Island?
Moalboal is a small town on the South-West side of Cebu island, Philippines. Moalboal's Panagsama Beach is where most of the resorts, restaurants and dive shops are located.
How to Get to Moalboal Island
Cebu City has an International Airport on Mactan Island just 30 minutes by taxi from Cebu City Center. Many international flights go directly to Cebu. If you are coming via Manila, there are hourly domestic flights. Moalboal is located 92 km south west from Cebu City. The local bus will take about 2.5 hours and expose you to some amazing scenery, or catch a local taxi.
Visiting Moalboal Island
by Sandra of Heading for the Hills
Moalboal on the island of Cebu is a spectacular place to visit if you love looking at things underwater. The snorkelling and diving is amazing. The waters are warm and crystal clear, with great visibility.
Located about 90 km from Cebu City, it's easy enough to get to and worth the trip. We hired a taxi, but the car broke down half way there! Oh no! Stranded at the top of a hill in the middle of nowhere! But never mind, he flagged down an overcrowded local bus and we were on our way amongst the chickens in cages and the friendly locals while the taxi's radiator continued to simmer.
Moalboal was lively enough without feeling like we were in an overcrowded tourist zone. The pace was relaxed, and the people were so friendly. Almost everyone we met was going diving. We didn't have our PADI certification yet, so we stuck with snorkelling. The moment when we swam out over the drop off was a little scary. The fish were bigger, and we could no longer see the bottom. It was amazing to see it though.
We stayed just outside White Beach at a private guest house. White Beach is a lovely stretch of sand about 6km from the Moalboal city centre, and 8 km from Panagsama Beach, the main beach at Moalboal. White Beach is probably the quieter of the two. If you're looking for more nightlife, stay at Panagsama Beach.
Follow Heading for the Hills on Facebook
Tours on Moalboal
Canyoneering and Moalboal Island Hopping – 14 hours
An ultimate treat for adventure seekers. Jump off 20-foot high waterfall to enter the canyons, dive and swim in cool and deep lagoons, scramble down under massive boulders, enjoy the natural slide and trek on rivers, boulders and rocky trails. And swim with the turtles, and fishes in Pescador Island, Turtle Point and experience Sardines Run.
Check here for tour details and prices
Try Danoa Adventure Park
A full day of adventure at Bohol's newest destination – Danao! Experience zip lining, caving, kayaking and more which give you a taste of the tremendous beauty nature for those who want to discover it.
Where to stay on Panagsama Beach.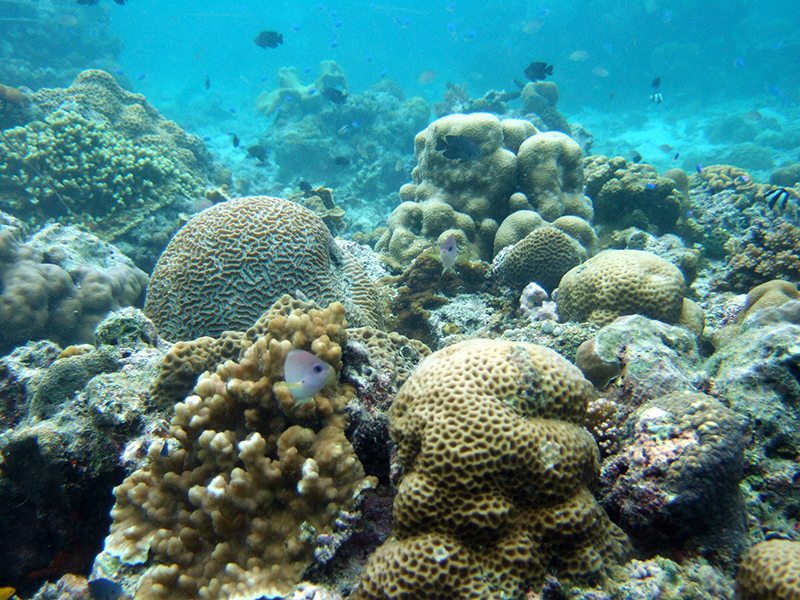 Luxury Accommodation on Panagsama Beach
Parrot Resort Moalboal 
close to 25 dive spots
Mid-Range Accommodation on Panagsama Beach
Sea Turtle House Moalboal
Welcoming guest house latest prices here
Budget Accommodation on Panagsama Beach
Herbs Guest House
Pet friendly, everything friendly – latest prices here
How to Get to Modessa Island?
Private transfer organised with the resort, or take a public van or bus from Puerto Princesa terminal to Roxas terminal. In Roxas, proceed to Bottega Resto Bar and wait for the scheduled boat transfer at 14:00.
Visiting Modessa Island
By Travelnuity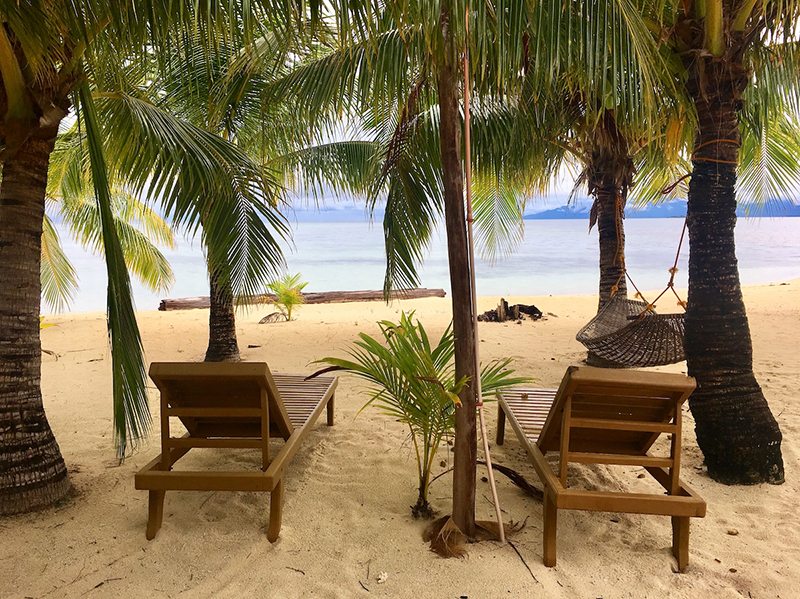 One of my favourite islands in the Philippines is also one of the smallest: Modessa Island, or officially Reef Island, off the east coast of Palawan. Able to be walked around in about 20-30 minutes, the highlight of this island is the superb snorkelling on the reefs surrounding the island. As a water-lover, I found it impossible not to spend hours at a time in the water, swimming along to spot gorgeous coral, fish and even larger creatures such as moray eels, stingrays and reef sharks. First-rate snorkelling equipment is available to hire from the resident dive shop, as well as dive trips if you're interested. Otherwise, Modessa Island is a tempting location to just chill out, especially on the abundant hammocks and sun loungers outside of the rustic bungalows. And if it happens to rain, there's also a handy pool table to while away the time, with a San Miguel close at hand.
Follow Travelnuity on Instagram
Where to Stay on Modessa Island
Luxury Accommodation on Modessa Island
There is only one resort on the island, the Modessa Island Resort. Latest prices are here, and you will be very pleasantly surprised.
Visit Cebu – one of the top tourist destinations in the Philippines
Where is Cebu?
Cebu is a popular city, and there ate direct flights to Cebu is available from Seoul, Incheon, Hong Kong , Busan, Chengdu, Hangzhou, Kuala Lumpur , Osaka, Nagoya, and Singapore , Taipei, and Tokyo.
How to Get to Cebu?
Again we suggest using Skyscanner for the best prices to get to this Philippine island paradise
Visiting Cebu
Cebu, the Philippines second largest city is filled with cultural gems, gorgeous landscape outside of the city and is also a great place to discover many of the islands in the Visayan region, which make this an ideal place to go outside of Manila. If you are into culture and history, then the city is a great place to discover Magellan's visit and the Spanish settlement and influence to the region and eventually the entire island chain. If you are looking for more beautiful landscape, you can take a variety of sailing bancas to many islands or even take a tour around the island to discover the natural beauty, hidden waterfalls and the popular whale sharks in the southern region of the island. There's plenty to do and see on Cebu, and it is an easy one hour plane ride from Manila to get away from the busy metropolis.
Follow Noel at Noel Morata Photography 
Where to Stay on Cebu
Luxury Accommodation on Cebu
Badian Island Wellness Resort – latest prices here
Mid-Range Accommodation on Cebu
Harolds Hotel Cebu – latest prices here 
Budget Accommodation on Cebu
Pacific Pensione – latest prices here
Visit El Nido – the all rounder island
Where is El Nido?
El Nido is located in the popular Palawan. You fly from Manila to Puerto Princesa and then a bus or van to you accomodation.
How to Get to El Nido
There are direct flights from Manila to El Nido. The flight takes about 1 hour. It lands at Lio airport, located about 4 kilometers from midtown.
Visiting El Nido 
How to Get to Malapascua?
Most people get to Malapascua via Cebu City. To get to Cebu from Manila there are 25 flights a day, that takes about 80 minutes. From Cebu, take a bus or car up to the port of Maya, then a boat over to Malapascua.
Visiting Malapascua
by Travelsauro
The tiny island of Malapascua, located only eight kilometers off the northern coast of Ceby, is famous for its exceptional diving. A wide array of dive centers offer courses, tours and day dives for a very reasonable price. Above all, you'll have the chance to dive with spectacular thresher sharks, which are present year-round.
However, that's not all! If you're not really into scuba diving, don't worry! Malapascua makes for a lovely beach destination, too. The southern part of the island boasts idyllic white-sand beaches on which you can find a great choice of hostels and hotels. The most popular beaches are Bounty Beach, Logon Beach, and Guimbitayan Beach, and all are gorgeous!
If you spend a few days here, you'll find that, as happens on most islands in the Philippines, you won't want to leave!
Follow Travelsauro Facebook
Exploring Malapascua
Malapascua is one of the most popular islands in the Philippines for its bountiful marine life. So yes, if you love the beach, or more so, if you love diving, Malapascua is a really great place. You can see the famous thresher sharks here, and a lot more underwater marine life.
For us, it was really nice because apart from the diving and island hopping in Malapascua, it's the local life that you see next there. Malapascua is a super small island, therefore you will see very humble island and farm life there. We even found some crazy beautiful secluded beaches and the simple walks everyday that we did there while in the island have been special and fun.
We highly suggest that you schedule a trip there when you don't need to be online too much since the signal is very intermittent and weak in the island, but apart from that, the place is beautiful.
Follow Gamin Traveler on Instagram
Tours in Malapascua
4 Night Dive Package to Malapascua Island Cebu
Check here for tour details and prices
Where to Stay on Malapascua
Luxury Accommodation on Malapascua
Buena Vida Resort & Spa – latest prices here.
Mid-Range Accommodation on Malapascua
(pictured) Malapascua Exotic Island Dive & Beach Resort – latest prices here
Budget Accomm

odation on Malapascua
Slam's Garden Resort – latest prices here
Visit the Island of Dos Palmas in the Philippines
Where is Dos Palmas?
Dos Palmas can be found
How to Get to Dos Palmas
Fly into Puerto Princesa Airport. Take a bus to the city pier, then hop on a Bangka – a Filipino boat. It will tsake one hour  by boat to reach Dos Palmas
Visit Dos Palmas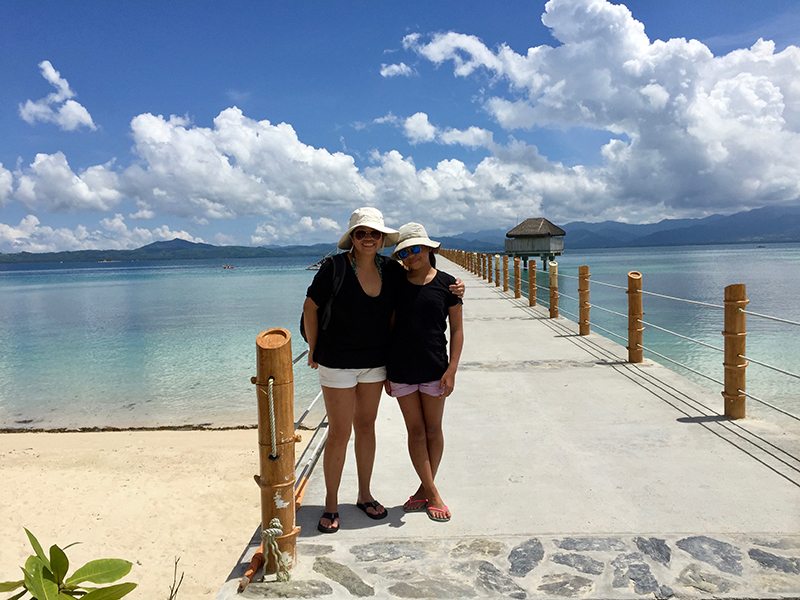 There is a litany of islands and beaches that can claim the throne of being the best in the Philippines. I will give you an alternative that may not necessarily be the most beautiful or the most visited and convenient. It's also not the most remote. However, in its mediocrity, it has almost become unique. No five-star accommodations or Michelin star restaurants here. There are no celebrity sightings or aging men with young, long legged, women.
So, what does it have? Well, quite possibly the quietest and most beautiful sunset; a staff that is less about wearing the monkey suit and more about being a friend. And because this is the Philippine Islands, the beach and waters are spectacular, however, you won't be inundated with people selling you their wares and the coastline free of sailboats.
If you're searching for a fulfilling simple beach island experience, then Dos Palmas is your place.
Follow Dish Our Town on Facebook 
Where to stay on Dos Palmas
Dos Palmas Island Resort & Spa Latest prices here.
Visit Long Beach in San Vicente –  the "longest white beach in the Philippines"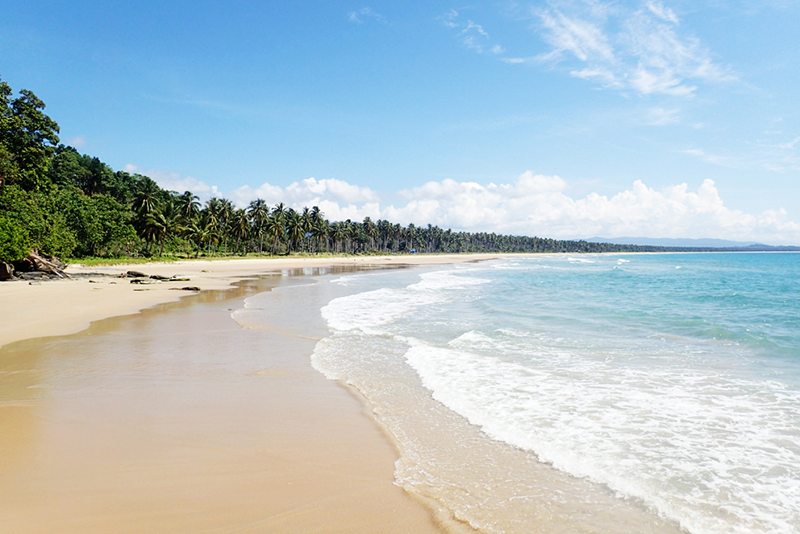 Where is Long Beach in San Vicente?
Long Beach in San Vicente is on the island of Palawan
How to Get to Long Beach in San Vicente
Fly to Puerto Princesa Airport. From the airport ride a tricycle to San Jose Terminal and take the 3-4 hour bus ride to San Vicente.
Visit Long Beach in San Vicente
Long Beach in San Vicente is an almost undiscovered coastline on the east side of popular Palawan Island. At 14Km in length, Long Beach is being touted by officials as the "longest white beach in the Philippines". Long Beach is, in fact, six stretches of beach, all separated by small headlands so don't expect 14km of uninterrupted sands, but it was still our favourite destination in our four weeks spent in the Philippines.
We stayed on Alimanguan Beach which is the most Northern of the six that form Long Beach, and during our early 2017 visit, there was only one guesthouse – Victoria Beach House. The rest of Alimanguan Beach is a local village consisting of houses, a school, a church, some small shops and plenty of fishing boats. The local life is what made our time here so special. We found nowhere else in the Philippines that offered this without the interruptions of tourism.  There isn't much to do here aside from interacting with smiling school children, watching fisherman and walks on the deserted beach. Oh, and eating amazing seafood at Victoria Beach House.
You should go now before the nearby international airport being built is completed because once it is, mass tourism will take over this special part of Palawan.
Follow Finding Beyond on Twitter
Where to stay on Long Beach in San Vicente
Luxury Accommodation on Long Beach in San Vicente
Club Agutaya Latest prices here
Mid-Range Accommodation on Long Beach in San Vicente
Victoria Beach House Latest prices here
Budget Accommodation on Long Beach in San Vicente
Turublien Long Beach Inn and Bar Latest prices here
Visit Sombrero Island in The Philippines – Diving and Snorkelling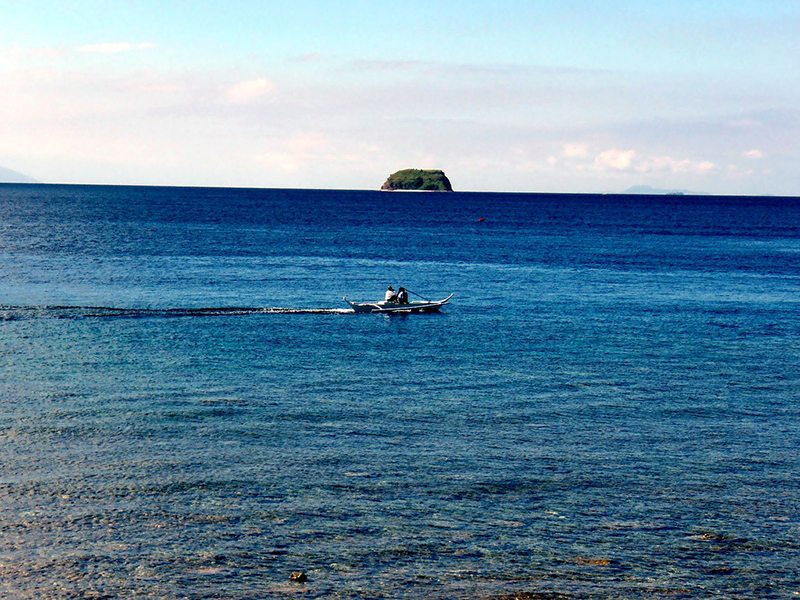 Where is Sombrero Island?
Sombrero Island is a small, cone-shaped island in northeastern Iloilo, Philippines. Sombrero Island is located at Mabini, Batangas
How to Get to Sombrero Island
Fly from Manila to Iloilo check flight times, connections and fares here.  It can be reached by boat from the shore of Anilao in approx. 30 minutes. Anilao, the birthplace of scuba diving in the Philippines
Located in Anilao, Batangas, Philippines, the Sombrero Island got its name from its form. On a bird's eye view, it looks like a hat. It boasts of its glittering white sands with rock boulders on the side. The shore would welcome you with fish swimming even on the shallow part. The fee to this island is 200 pesos each and will only take you about 15-25mins boat ride from Masasa Beach.
Follow The Jerney on Facebook
Where to stay NEAR to Sombrero Island
Eagle Point Beach  and Dive Resort is located in Anilao, Mabini and is great spot to stay to visit Sombrero Island. Latest prices here.
Visit Parola Island – the unspoiled beach
Where is Parola Island?
​​Parola Island is located in Municipality of Jose Panganiban, Province of Camarines Norte, Bicol, Philippines.
How to get to Parola Island
From Manila, take a 40-minute flight to Naga, which is the closest airport. You will then get a  bus to Daet, Camarines Norte, and then a boat
Visiting Parola Island 
And a Bonus -Camiguin Island – Island of Fire
And another Bonus Island – Seco Island – Island of Natural Wonders
We hope you have enjoyed discovering the 15 Best Islands in the Philippines to Visit.  Let us know about other stunning islands in the Philippines.