Whether you are visiting Bangkok for the first time, or just need to touch base again, these are the 14 Best Things to Do in Bangkok (Thailand). Here are the Top-Rated Tourist Attractions in Bangkok for you to tick off your bucket list.
As the capital city of Thailand, Bangkok was voted as the most visited city, in the Global Destinations Cities Index, receiving 21.47million visitors a year. It is not an expensive place to visit. As a predominantly Buddhist country, you need to be mindful that you need to there are some things you should and shouldn't do in Bangkok.

Getting around Bangkok
The Skytrain (BTS) and underground (MRT) rail systems – the mass transit systems in the city, are the best ways to get around the vast city of Bangkok.Keep this in mind when you are booking accommodation, which I will discuss later. You should book a tuk-tuk because they are iconic to Bangkok, but be firm when establishing the fare. Taxies are cheap, but the traffic in Bangkok is very heavy so that you may spend a lot of time and money sitting in one of these brightly colored cabs.
You can read more about staying near the BTS and MKR here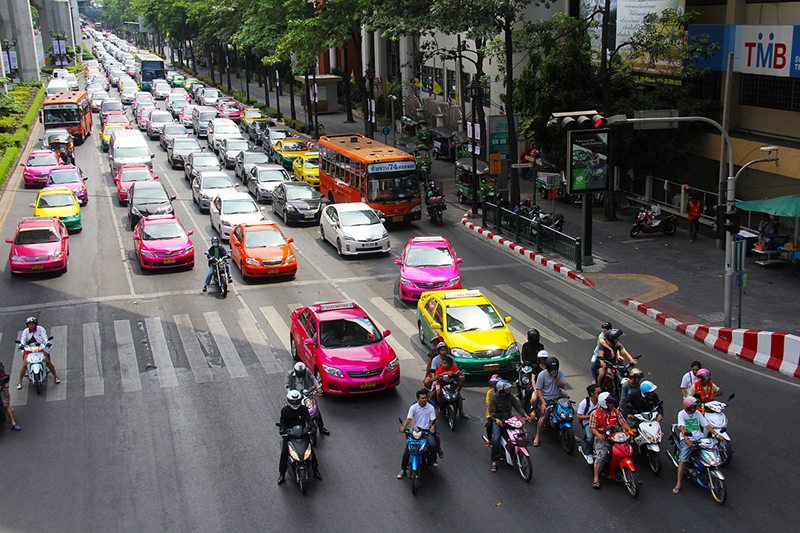 14 Best Things to Do in Bangkok (Thailand).
1. You have to visit the Grand Palace in Bangkok
The Grand Palace is grand and well worth visiting in Bangkok, as the first of your 14 Best Things to Do in Bangkok. It's also the home of Wat Phra Kaeo, which houses the Jade (or Emerald), Buddha.
Hours: 8:30am-3:30pm daily
Location: Na Phra Lan Road, Phra Borom Maha Ratchawang, Phra Nakhon
Hours: 6am-noon daily
Hint: Dress modestly when visiting the Grand Palace, which means covering your arms and legs and avoiding any sloppy attire. When visiting any of the temples in Bangkok and Thailand, you should respect the cultural and religious mores of the country.
2. See the Reclining Buddha at Wat Pho
Close to the Grand Palace is Wat Pho, best known for the Temple of the Reclining Buddha, the very large and iconic Buddhist Buddha. The temple was built by King Rama I and is the oldest and in Bangkok. It is considered to be a place of healing and was Thailand's first university,"both established by King Rama III. Make sure you get a Thai or foot massage at the traditional medical school on the premises.
Hours: 8:30am-6pm daily
Admission: 100 baht
Address: 2 Sanamchai Road, Grand Palace Subdistrict,
3. Watch the sun rise and sun set at Wat Arun
Wat Arun is an important place of worship for Buddhists. You can see the monks walk here during the day. Climb to the top of the prang (a Khmer-style tower) just before sunset, to get fantastic views of the sunsets over the Chao Praya River, the main river which runs through the city of Bangkok. It is also one of the best temples The 10 Best Temple of the Dawn
Hours: 8:30am-5:30pm daily
Admission: 20 baht
Location: Arun Amarin Rd
4. Meditate at Wat Suthat
Wat Suthat is one of the oldest and most beautiful of Bangkok's Buddhist temples. In front of the temple is the 27 m high Giant Swing, where religious ceremonies occurred.
Admission: 20 baht
Location: Bamrung Muang Road, Sao Chingcha, Phra Nakhon
Hours: 8:30am-9:00pm daily
5. Visit Chatuchak Market
Bangkok's massive weekend Chatuchak Market is the largest in the world. As it is very popular with locals, it is a good chance to wander around and eat at some of the delicious street food stalls
Location: Adjacent to the Kamphaengpecth Station (MRT), about 5-minute walk from Mochit Skytrain (BTS) Station and Suan Chatuchak (Chatuchak Park) Station (MRT)
Official site: http://www.chatuchak.org/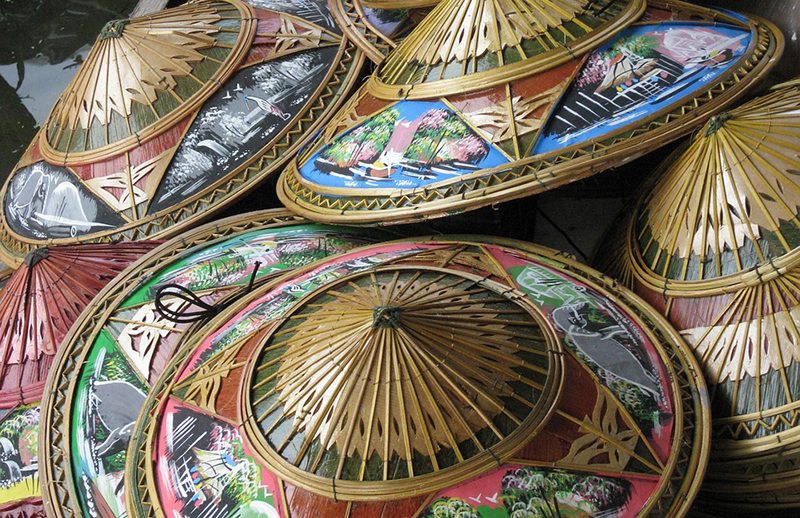 6. Explore the Damnoen Saduak Floating Market
Tourist trap or not, as a first-time visitor to Bangkok, you need to get out of the city and head Ratchaburi, which is located about 1.5 hours outside Bangkok to visit Damnoen Saduak Floating Market.   The best tour option is a Floating Markets Cruise Day Trip from Bangkok, where they will pick you up from your hotel, and deliver you back to your door.
7. Visit Jim Thompson House
The Jim Thompson House is a historic house in Bangkok. Jim Thompson was an American entrepreneur, who disappeared while traveling in Malaysia. He spent time in Thailand after World War 2 and became a significant player in the Thai silk industry, which can be seen here at the Jim Thompson House. To understand his significance to Bangkok, and to also see Suan Pakkad Palace take a tour.
Address: 6 Soi Kasemsan 2, Rama 1 Road
Flickr Twang_Dunga
8. Chill out in Lumpini Park
Lumpini Park is a green oasis amidst the traffic and franticness that typifies Bangkok. Lumpini Park is a beautiful place to just chill in Bangkok, and is definitley one of Best Things to Do in Bangkok. There are often street entertainers, occasionally street protests, but it remains a have in the city.
Hours: 5am-9pm
Admission: Free
Location: Rama IV Road, between Ratchadamri and Witthayu.
Flickr Matt Crampton
9. Party at Khao San Road
Khao San Road is Bangkok's backpacker district, and it is vibrant, crazy, and well worth visiting. Just visit Khao San Road, expect to be ripped off, but enjoy a beer and do some seriously amusing people watching.
10. Shop til you drop at MBK Center
The MBK Center is also known as known as Mahboonkrong, but most tourists and visitors just call it MBK, and it is one of Bangkok's premier shopping malls. It is eight stories of shopping nirvana.
Phayathai Rd, Pathum Wan, Khet Pathum
11. Eat street food in Bangkok
Thailand and Bangkok are all about street food. Food is cooked hot and quickly, making it a lot less risky than pre-prepared food that has been sitting around for ages. Look for Som Tam -Papaya salad, Khao Pad – Fried Rice, Pad Thai Kung – Noodles with shrimp and Gai/Moo Bing – Grilled chicken/pork skewers wherever you are
12. Do a Chao Phraya River Cruise
One of the most pleasant ways to explore Bangkok is to take a leisurely Chao Phraya River Cruise and to see what happens in this bustling Thai city. There are some excellent Chao Phraya River Cruises with full commentary, which helps you to understand more about Bangkok and Thailand.
13. A must is to explore Chinatown
Exploring Chinatown in Bangkok is an amazing experience. There are markets and a rich history in the back streets of this old part of Bangkok. One of the best ways to see the influences of the Chinese in Bangkok is to do a Food Discovery Tour because food is important.
14. Do a Thai Cooking school
Bangkok and food, and Thailand and food is a mix made in heaven. One of the Best Things to Do in Bangkok is to attend a Thai Cooking school and start with a visit to the markets to select the freshest ingredients, followed by a local showing you exactly how to cook your favorite dishes.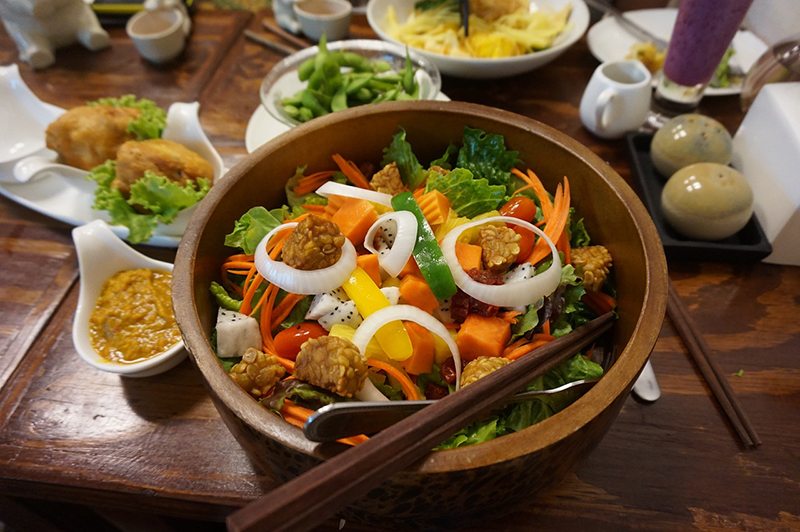 Where to Stay in Bangkok for Sightseeing
One of the most important decisions you should make when choosing Where to Stay in Bangkok is to make sure you are near the public transport system of Bangkok. This is because Bangkok is a large city and a very humid system, so the less time you have to walk through the heat and the traffic the more enjoyable you visit Bangkok will be.
We have chosen to use Hotels Combined to share the best hotels in each price range, because they are a comparative search engine that looks across them all to give you the best prices.
Luxury Hotels in Bangkok
Mandarin Oriental in Riverside
– location
– terrace overlooking Chao Phraya River
– location on riverside
– infinity pool
Ariyasomvilla
– locate in Sukhumvit
– old world charm in a tranquil setting
– lovely pool and grounds.
Mid-Range Hotels in Bangkok
Sofitel So Bangkok
– central location
– convenient location
– great pool
Budget Hotels in Bangkok
– Close to Khao San Road and close to some of the city's most important attractions.
– good location
– good value for money
– Located in Sukhumvit
– budget prices
– quality rooms.
This is you ultimate guide to Bangkok – the 14 Best Things to Do in Bangkok. Enjoy.